Gant graphs make for a great data visualization tool for project managers and businesses to make project presentations, share with teams and ensure timely completion of their work schedule. As a challenging, but rather very important task with some worth daunting complexities, project management endeavours can become a disaster if not properly managed.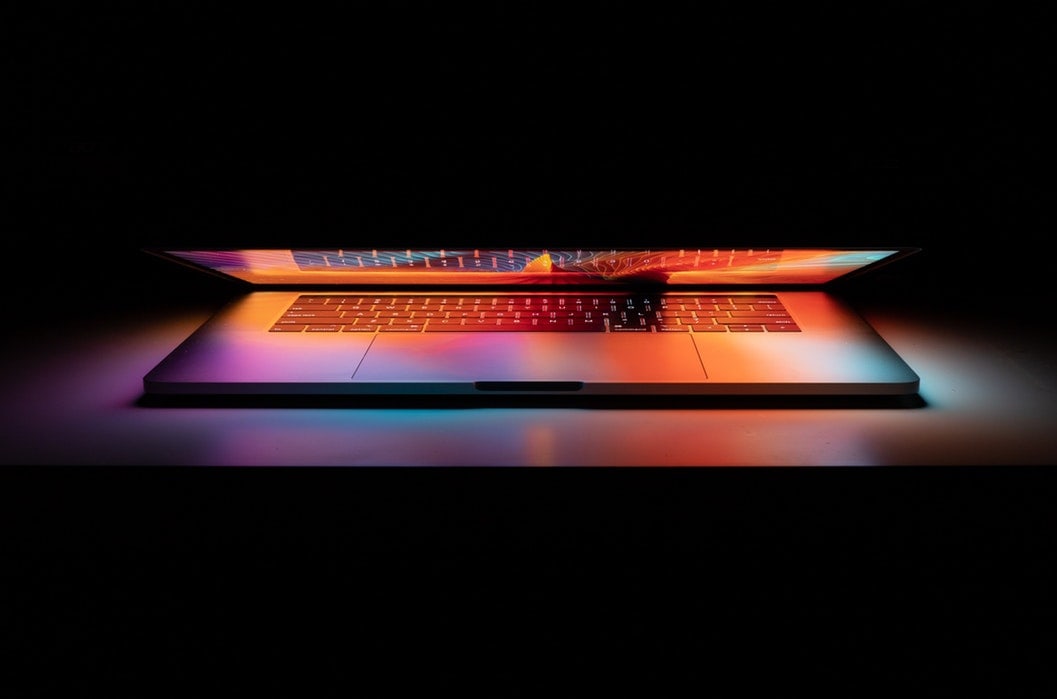 Sinnaps Online Project Management Software, among other online tools has demystified the challenging responsibilities of project managers, helping them to fulfil complex and intricate assignment within the constrained time and budget. These tools bring about marked reduction in interruption of regular project activities, organize resources, teams and all other necessary inputs that will lead to successful project execution.
Unfortunately, certain businesses still do not know of several data visualization tools that they could use to improve their businesses – they consequently rely on dumping large numbers on a slide, devoid of any analysis, invariably leading to a resultant decrease in efficiency and productivity of the enterprise.
For total implementation of project management graphs, and the various ways they could be applied to improve business processes – then keep reading to find out.
Gantt Graph
Invariably the best way to demonstrate a project schedule, including tasks as well as their duration in days, weeks and months. This way, business managers anticipate, plan as well as workout every practical aspect of the endeavour as well as envision and take practical steps to balance any potential problems, properly distribute tasks to team members and ensure team members stick to schedule.
When Gantt graph in Excel or other formats are properly implemented, project and business managers reduce the difficulties inherently associated with identifying task relationships, clarifying and interpreting task dependencies as well as present visual interpretations to team members and partners ensuring everyone is on the same page as properly conceptualize what needs to be done to bring the project to a successful close.
Gantt Graph: Classic Mode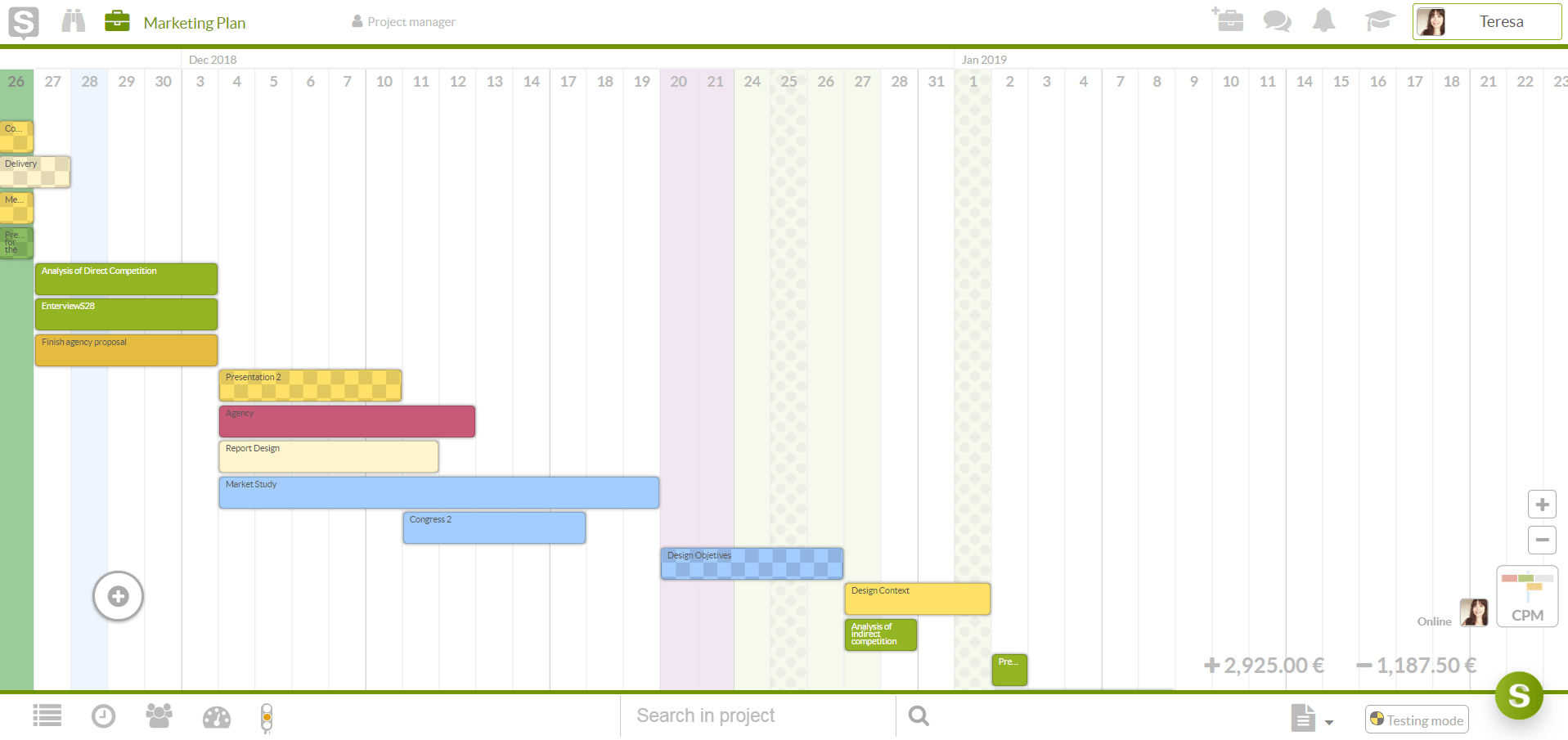 CPM (Critical Path Methodology) Mode: the activities are priorizaded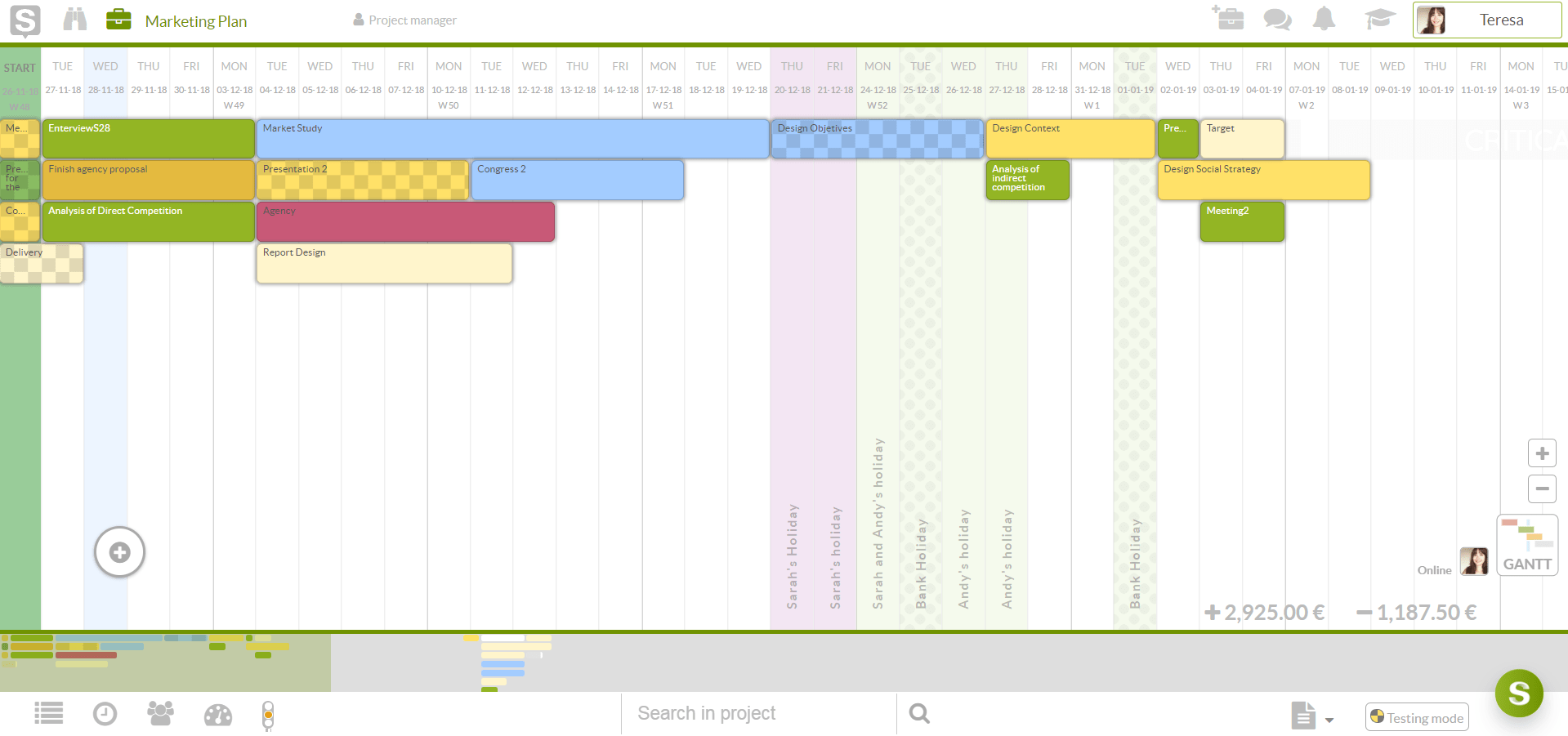 Project Management Graph
The use of graphs in project management is a practice that has been around for quite some time now. A Gantt graph online based approach for studying, anticipating as well as controlling project activities not only give you the advantage of identifying and remedying issues before they occur, graphs lets you overcome the limitations as they are likely to occur by encouraging specifications of real-time milestones that will invariably break the finish-start barriers constantly clogging activities.
Let us discuss some of the project management graphs and charts that have also become popular over the years.
Over the years, this method has become one of the most widely used project management chart after Gantt graphs and illustrations. Known as the Programme Review and Evaluation Technique (PERT) chart, and designed in 1950's by the United States Navy. They are mostly used to analyse projects involving complex tasks and activities with the flexibility of permitting randomness in task completing times.
There is often a significant link between the root cause of failure in a specific task and its resultant effect. This method has proved to be particularly useful in categorizing cause and effects graphically – making it simple to address the root cause of the problem.
To properly underscore and monitor any changes in project processes as they occur with time, project managers often use the control chart. As a process is ongoing, project managers can identify and resolve problems which hitherto have been causing changes, and therefore leading to increased stability.
This method is effective for analysing the frequency of occurrence of problems in a system. Consisting both bar and line graph, it is mostly used in Six-Sigma analysis. With a focus on vital causes, managers can easily visualize the quality aspects of their processes in the bar graph schedule.
This lays out the steps involved in different tasks albeit in a sequential manner. This finds great use in stakeholder analysis as it aids project managers in determining who wields the greatest influence in their projects.
A flow chart conveniently represents the sequence of flow of a process. It allows for the illustration of financial, management as well as management and production processes.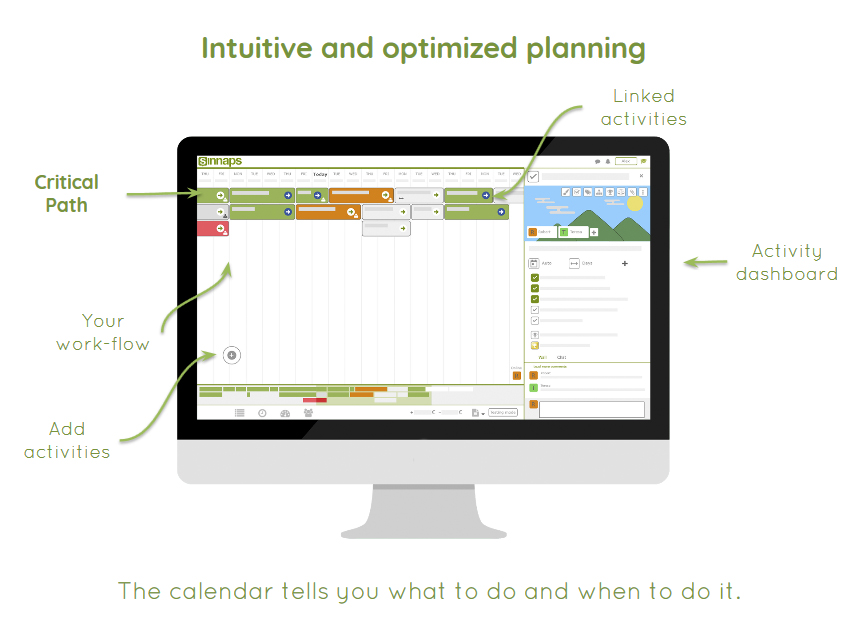 The work breakdown structure (WBS) chart in project management provides information on the hierarchy of tasks as they should be carried out.  This makes improved planning possible as you would easily visualise components of each task for better execution.
Many useful tools exist which has greatly improved project management practices the world over. Project management charts, Gantt graphs, and many more are all intended to help project managers and businesses visualise and get more out of their project activities. You may have already heard of these tools and how they can help your project and are looking for the best resources to implement them.
To see how Sinnaps online project management can improve your project enterprise, why don't you give it a try today?