Who are the stakeholders in a project? This is one of the most important questions project managers must understand before delving into a project undertaking. When you ask project experts, they'll tell you that understanding, extracting and building a documented form of the requirements of a project is likely the most difficult step in a project.
Most project managers spend a lot of time collecting requirements for a project and fail to make just as much preparations for the changes that may be encountered in the project. Why? This is simply because for every project, there are a variety of project participants, interest groups and customers. And often times, the interest of these group of people change, even for a couple of times within the life cycle of the project. This change causes further alterations on other intrinsically related technical requirements which before now are thought to have been fully captured.
In this article, we will talk about project stakeholders in project, ways to identify stakeholders, stakeholder collaboration as well as ways to manage stakeholder conflict, stakeholder relations and more.
Related links…
Project Stakeholders
We have seen how there are many interested parties in a project – both in-house and outside the project. Now let's look at who project stakeholders are.
Project stakeholders as a general term is used to describe interested parties in a project, including individuals, groups, and organizations whose vested is such that they can muster the resources to affect its outcome.
When we go further to make a note of project stakeholders, the draft will include the project manager, sponsor, groups/ teams within the performing organization as well as the customer.
Also among the list, we have the people who will be affected, either positively or negatively by virtue of being in close proximity of the project environment. Take for instance, stakeholders in a construction management would include the government, residents in that environment, the customer, project team members, CEO of the company, etc.
Stakeholder influence is a major factor in the success or failure of a particular project, therefore, project managers must have their stakeholder strategy for managing the needs of each member.
Stakeholder Register
To complete a project, it is critical to have the support of each example of stakeholder as represented in a project. And to identify and manage project stakeholder requirements accordingly, there is an essential requirement that must be in the arsenal of the project manager.
A stakeholder register is a document used by project managers to record information about individuals, groups or organizations with vested interest or material involvement in a project. For greater convenience and a hassle free project, this document should be created in the early stage of the project, and the power, influence, level of interest as well as expectations of can be recorded for proper identification and collaboration.
Contents of Stakeholder Register
A typical stakeholder register contains the following information:
Stakeholder Identification – This contains names, title, contract info as well as their part in the project
Stakeholder Assessment – This holds the stakeholder requirements, expectations, influence, interest, etc.
Stakeholder Classification – This section is used to classify stakeholders according to a set of criteria. This may include the power of the stakeholder, their interest and the likes.
This section may also include stakeholder perspectives and attributes portraying stakeholders as intrinsic or superficial the project. They may also be further designated as a supporter, against, neutral or supporter of the project.
Implementing a good stakeholder management strategy is critical to a successful project. Sinnaps online project management software can be absolutely crucial in achieving this important goal. With Sinnaps, you can easily schedule tasks, access all the workloads assigned to each team member,  view and conveniently reassign project resources to accommodate and implement changes as advised by stakeholders.
Manage your teams' resources and workload

Multi Stakeholder
To undertake a successful project, managers must seek the multi–stakeholder approach to problem solving. This organizational stakeholders plan involves bringing all parties together to look at issues objectively, dialogue, arrive at common solutions as well as oversee the implementation of the same.
This is based on the principle which exerts that such solutions as have been arrived upon by all actors involved through consensus stands to gain more legitimacy and thus more acceptance as it would be seen to reflect a collective viewpoint and not a single source of validation.
Kanban dashboard to manage multi stakeholder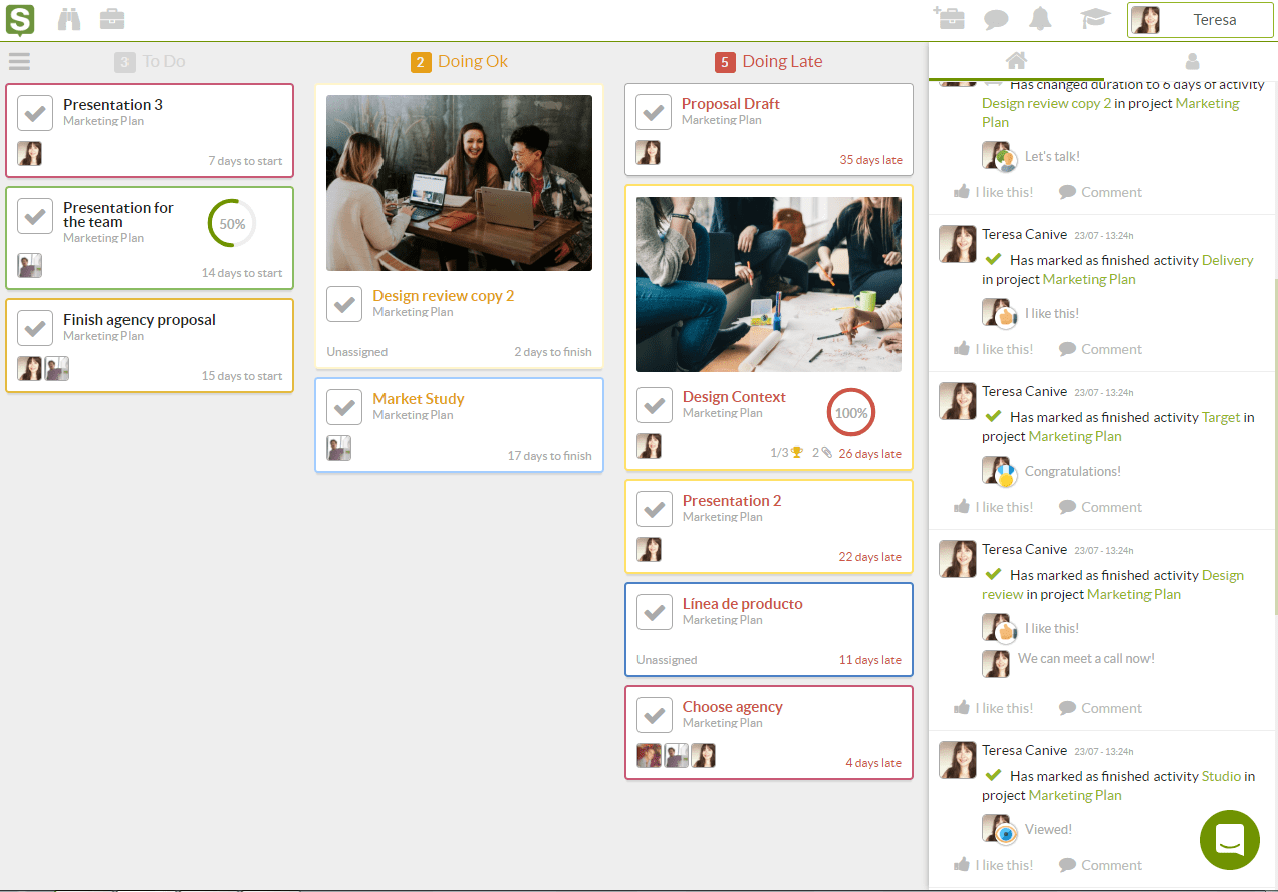 Related link…
How to manage change according to worker personalities
Project Stakeholder Groups
We have therefore established that for every project, there are different types of stakeholders – project stakeholder groups without which the project will not suffice. They are the people who are affected, directly or otherwise by the work being done, and therefore, stakeholder interest and responsibility must be properly managed for the successful implementation of the project.
Stakeholders in a project are the lifeline of that project. They are the ones with the power and resources which when placed at the disposal of the project manager will ensure timely and unimpeded completion of a project.