The current work culture tends to focus more and more on goal-based work. Productivity and efficiency are measured by results and this means working with contributors who self-manage, based on the goals being achieved.
Thus, work days are the first things that change. Using this model, we foster a linear structure in which each team member acquires more responsibilities and is able to take important decisions within the project.
So, this work model triggers a change in our habits. One of these is that of working at the weekend. It is not a question of working more hours or taking time away from leisure, rather it is a matter of self-managing our time with flexible planning that adapts to setbacks and our needs.
5 KEY FACTORS FOR PLANNING AT THE WEEKEND
In order to plan your projects for over the weekend, we recommend you bear some things in mind. You'll therefore be able to do your project tasks, while setting aside quality time to spend with your loved ones or to relax and disconnect from work.
Plan: Set aside specific hours for work at the weekend. Here it is vital to be disciplined if you want to make the most of all of Saturday and Sunday.
Get up early: If you plan to work first thing in the morning, you can take the rest of the day off to spend with your loved ones. Take advantage of everyone else still being asleep to have your work done by the time they wake up. What's more, don't forget that the most productive hours of the day are those first ones.
Find your space: This is essential if you're working from home at the weekend. If you tend to do this often, try to find a place where you can close a door and isolate yourself from what's going on in the rest of the house. And forget about the sofa…!
Learn to disconnect: If you plan for first thing on Saturday and Sunday mornings, make sure you disconnect for the rest of the day. It's not easy to change your mindset, so you need to make an effort sometimes.
Control your mobile: Sometimes your mobile rings even at the weekend (depending on the business you work in). During your leisure time, ensure the telephone is off or silent.
On this last point, there are countries where there is even a law to regulate this matter. One example of this is France where the sending of emails outside office hours has been forbidden since January 2017. This was done for workers at companies with over 50 employees, granting them the right to ignore telephone calls and emails once their working day was over.
HOW DO I ACTIVATE MY WEEKEND WITH SINNAPS?
You can plan your weekend work with Sinnaps. This means you can activate weekends in your project planning. You just need to access the project's overview and click on the Weekend tab.

What could happen if you activate weekends in your planning?
f your project has already been planned and you decide to add weekends to the calendar, link-related planned activities may change dates.
The work path takes into account an extra two days per week, so the workflow is brought forward.
When you are going to make this change in your planning, Sinnaps will let you know using this message: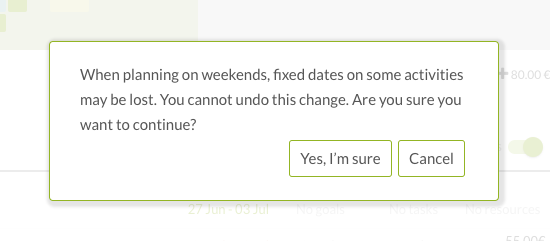 That's why we recommend that if you're not sure about the change, you can see what sort of an impact adding in weekends will have by using the Sinnaps Testing Mode. Nothing you change here will be implemented in the planning without your say-so. Likewise, you can save the simulation with the change made in case you want to add it in further down the line.