How to start a project? Creating a project from scratch can be every bit as complicated as we want to make it. It is true that the level of difficulty will vary enormously depending on the nature, objective and resources available. So, there are planning and management apps which can help you on the way.
However, before starting a project design, we have to have a few basic notions clear:
A project is unique, is undertaken in a specific time frame and has some particular resources available.
A project is dynamic. It may vary greatly throughout its duration. Thus, it is important to work with flexible planning.
 A project is based on a management method which is defined in the initial planning stages. Depending on the project type, it is advisable to apply techniques that allow for further modifications while it is in motion (agile) or techniques that will tell you when and how to execute your activities (predictive).
A project is always subject to a run time and resources available.
A project seeks a specific objective from the start. While it is running, you can add various, albeit linked, objectives to achieve the goal that was the reason for the project starting in the first place.
A project is not a routine operation like a process. Remember that you can convert your projects into processes, if you tend to pursue identical projects.
So, once we know what it means to undertake a project, it is time to begin planning it. You don't need all the information about it from the beginning. You can start to plan your project with a few basic requirements. With Sinnaps, you can always make changes and save different situations.
How To Start A Project
Steps to know how to start a project from scratch:
If you want to create a project from scratch, click on the 'Start New Project' button in the bottom right of our project panel – which you access by clicking on the Sinnaps logo.

Step 01: Select project type
By doing so, we must first select the type of project we wish to begin. If we are dealing with a new project that we're planning from scratch, we choose the 'Start New Project' option. Should we wish to access the 'Start a Demo Project', to reuse a previously created template, we choose the corresponding option. With this second option, we'll be starting a project with some activities. But in this tip we're going to focus on creating a process from scratch.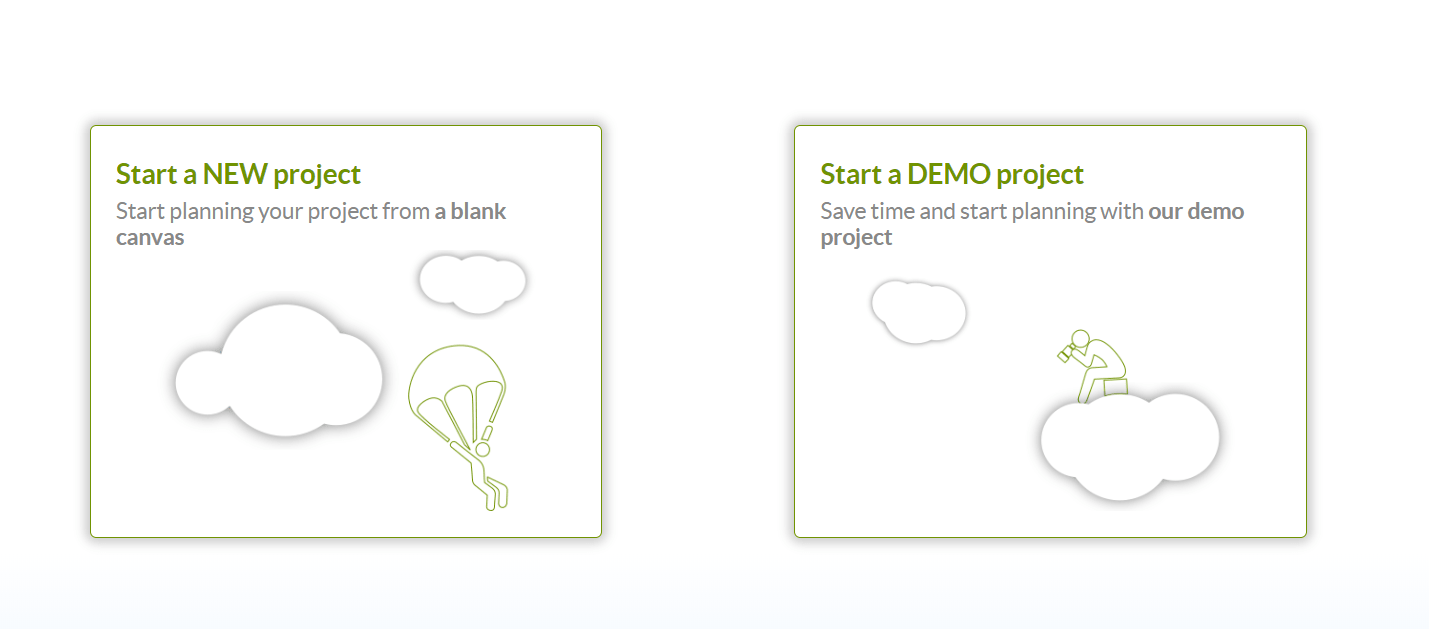 Step 02: Define the basic project specifications
Before beginning a project, we need to specify the basic project information by entering a name, the initial date for the project and an official time slot in which the project is going to be managed. All the information we enter can be modified or edited during the project.
Note: once a project has started, we can plan it based on a final date using the Testing Mode. However, planning a project based on a the end date may be rather confusing. So, if you are inexperienced, it is recommendable to do so only from a start date.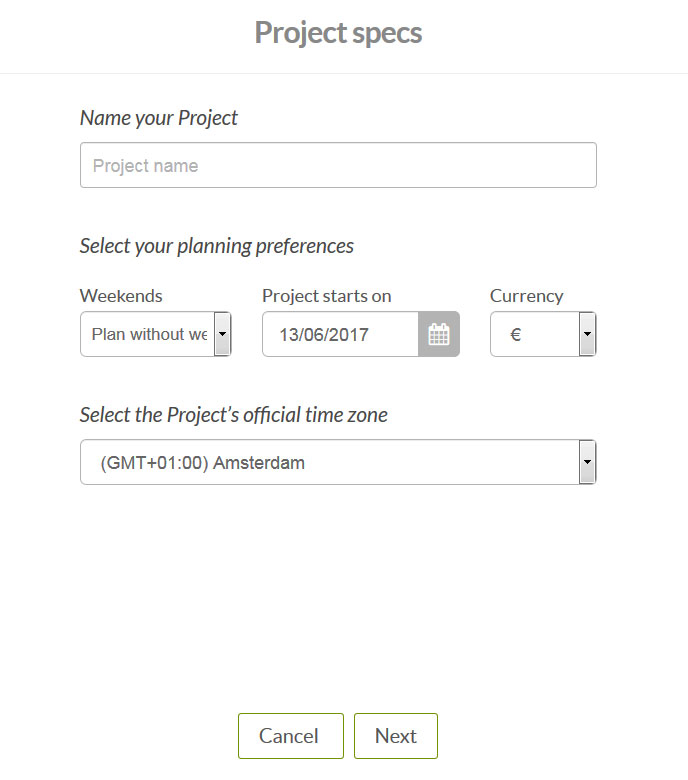 Once we have filled in the relevant fields, press the bottom button to move onto the next step, where we'll start to plan.
Note: if we want to change the project start date, we should do it in Testing Mode and not in planning. We do it this way because the entire planning would be changed otherwise. If, for instance, a later date is chosen for the project than the current one, all the set dates would be lost for those activities that were to begin prior to the new project date. To prevent a change like this causing the planner a problem, the change in date should always be done via a simulation.
Step 03: Design the initial plan
Sinnaps will open up the planning – currently empty – for our project. Here, we can undertake all the primary actions on our project, such as configure our work team, add and edit activities, link other projects or assign resources, among other basic features.
Each change we make will automatically be saved and implemented. This way enables our planning to move faster, as we can make the necessary changes throughout the life cycle of the project. If we want to make planning changes without other users seeing them, we can do so in the Testing Mode

, access is located at the bottom right on the planning.
Note: only team members who are Project Managers can make changes to the planning and use the Testing Mode.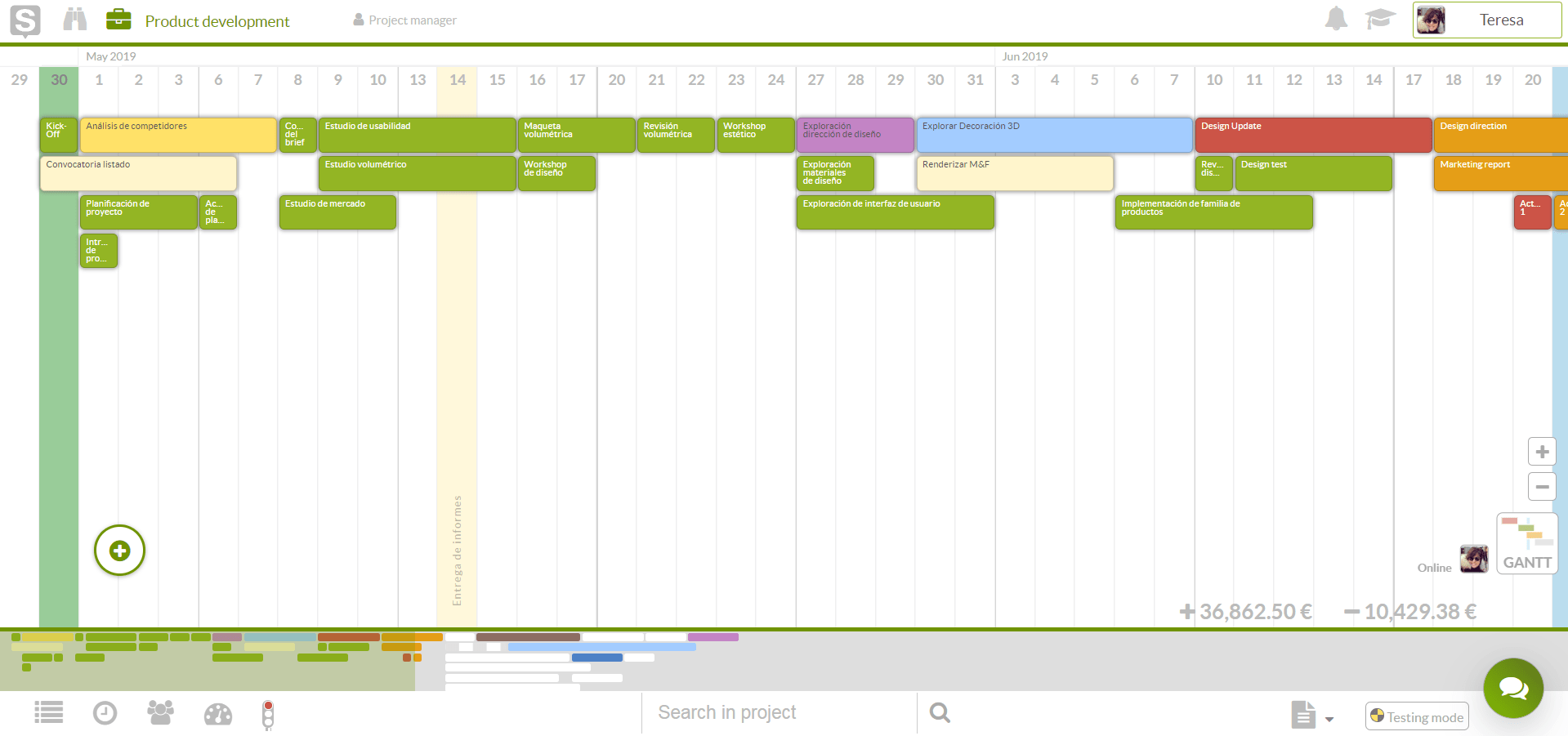 Step 04: Add people to the project
This is the first step towards working with a team of people. We are in the planning for our project. In the lower margin, click on the TEAM tab. The menu will drop down showing the members of the team in this project.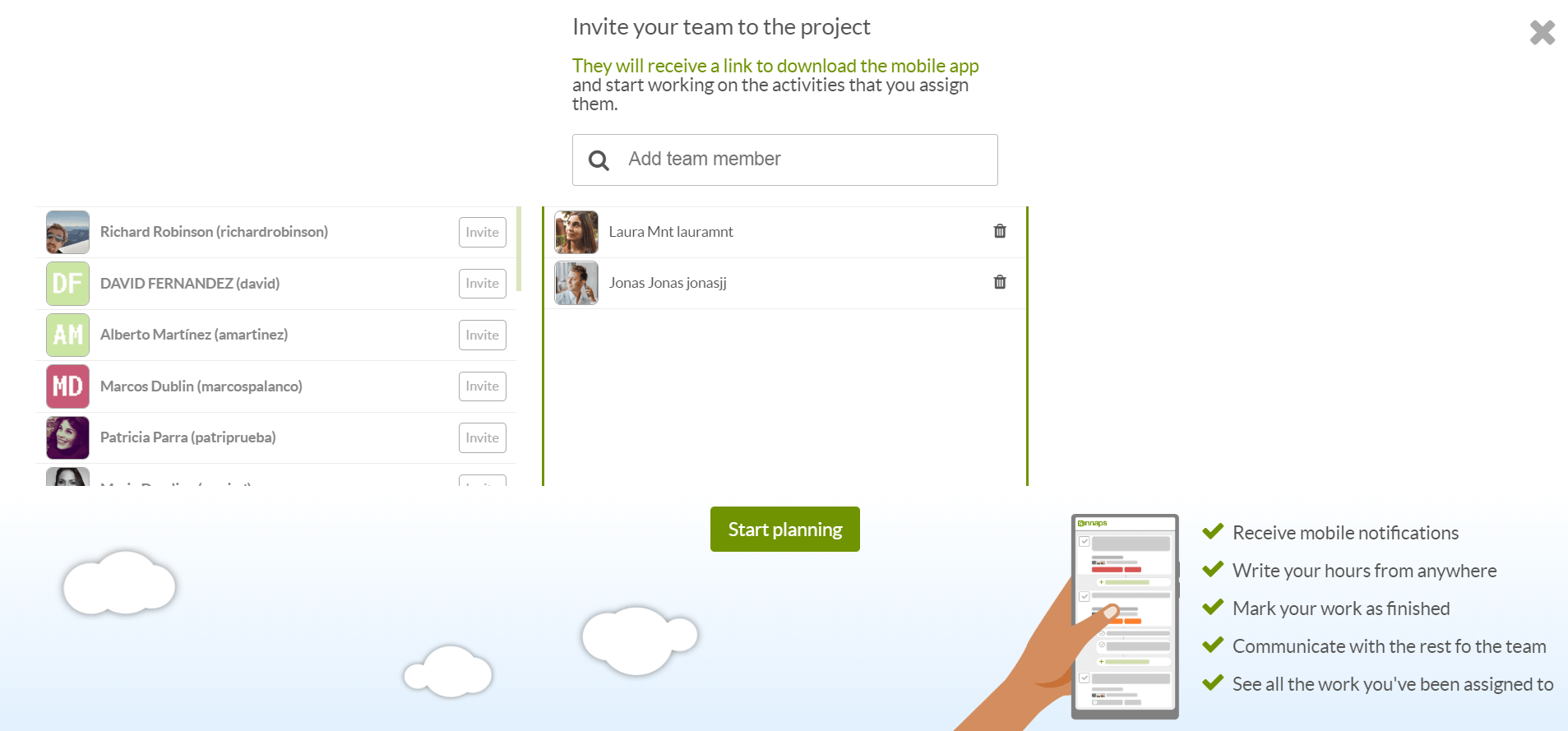 To add new people to the project, we write their names or emails in the search engine and hit ENTER. If they are already users, they'll receive a notification by email. Once they confirm, they'll join the project. If they aren't users yet, write their names and emails and they will receive an invitation to register with Sinnaps and then they can begin to work on the project.
Step 05: Monitor
Now we're ready to begin. And to do so, we just need to start managing resources and share out the work. Once this is done, Sinnaps will start to quantify the time and calculate parameters to show progress in the project using its Earned Value techniques. Other monitoring features will also start running and will notify the people involved in the project of the their responsibilities. We can view this in real time in the 'Performance' tab (bottom margin in our planning).