The success of an organization is not its ability to produce outstanding products and services but its ability to market the products to the customers. Also, the ability to convince them to take the right action in terms of patronage. 
No doubt, marketing is the most important activity of any business establishment. It provides customers with the needed awareness about an organization and its services by informing them about the value that they stand to get from the products and services.
It is responsible for the growth of every business firm and it determines the level of profitability an organization can achieve. 
However, the reality of most business organizations is contrary to this, they always struggle in their marketing strides thereby making them miss out on their business goals. Is your organization struggling in your marketing efforts?
Look no further, the missing link is the agile marketing management approach.
Agile marketing management project allows you to embrace a paradigm shift in your marketing campaign management.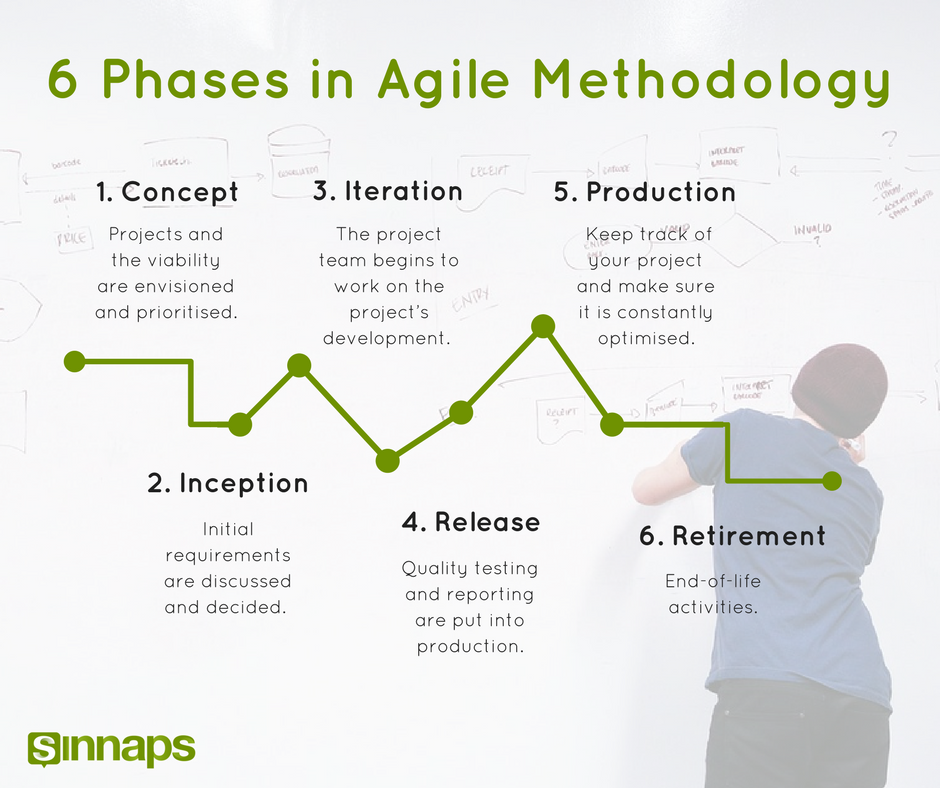 Marketing management project allows you to get the best out of your marketing campaign by focusing on agility, adaptability, customer, and marketing planning cycles that improve the effectiveness of your marketing strides. 
According to the report by Standish Chaos, the success rate of agile marketing management project is twice that of traditional marketing management project. This is because of the agile approach being used in agile marketing management project.
Sinnaps, an online project management tool is effective in planning and executing your marketing management project that will make your business firm the delight of the customers.
It helps you in the development of marketing project management system that will optimize your business marketing campaigns and provide you with a competitive edge in the marketplace.
Also, it can determine the critical path of your project by taking into consideration the task dependencies. With this, you are assured of meeting the deadlines of your project and save you a lot of time in the process.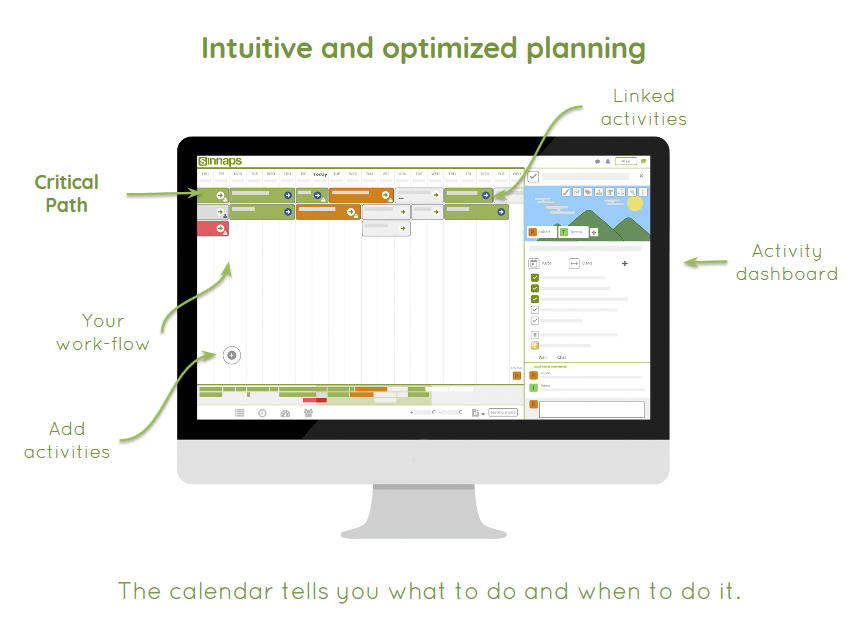 Marketing Management Project: Why It Is Important For Your Organization
The business managers should ensure that they adhere to streamlined planning cycles of agile approach in their marketing objectives. The following are the steps involved in the development of marketing management project:
Setting a vision: this is the first step in planning the marketing management project. It will clearly define the objectives of the marketing campaign of your organization.
Establish a clear roadmap: here, you are required to break the marketing campaigns into stages and make a list of what will be needed to accomplish it. This can include a content marketing plan that will enable you to leverage content marketing as a marketing strategy. Content marketing can be used by small business organizations. Also, B2B content marketing strategy and inbound marketing strategy. 
Sprint planning: sprint planning in marketing management project entails working extensively on each strategy identified in the roadmap. For example, the team can decide to set up a blog for content marketing. The team will brainstorm on how to generate ideas, promotion, and lead generation. Also, tasks will be delegated to the members to ensure that their marketing objectives are achieved.
Daily scrum: here, the team members will gather together daily to discuss every task they carried out in the previous day to ensure that they stay in sync and eliminate the obstacles in the marketing management project.
Review of the sprint: here, the completed tasks are broken down to review the effectiveness of the sprint. In a nutshell, the team will review the marketing management project to know what could be improved upon. 
Business Project In Marketing Management
The task of getting the best out of business project on marketing management is based on how the team can adhere to organizational discipline that is centered on the practical application of marketing orientation and techniques. These will maximize the marketing resources and activities of the business firm.
Project on marketing management should be carried out with agile tools of economics and competitive strategy to analyze the sector where it operates. In the analysis of the competitors, business firms should design detailed profiles of every competitor in the market by emphasizing their strengths and weaknesses.
Business managers should examine the cost structure of each competitor, their sources of profits, resources and competencies, competitive positioning, and product differentiation. 
Business project on marketing management should place a huge premium on effective marketing research to carry out marketing analysis via qualitative marketing research like interviews. Also, quantitative marketing research like statistical surveys and detailed observational methods. 
With these, a business firm will have competitive intelligence that will help in identifying trends and will inform the organization's marketing analysis that will spur it to greater height in terms of productivity and profitability. 
Online Project Management Report: Habits and app usage
Results from the survey conducted with over 500 sector professionals around the world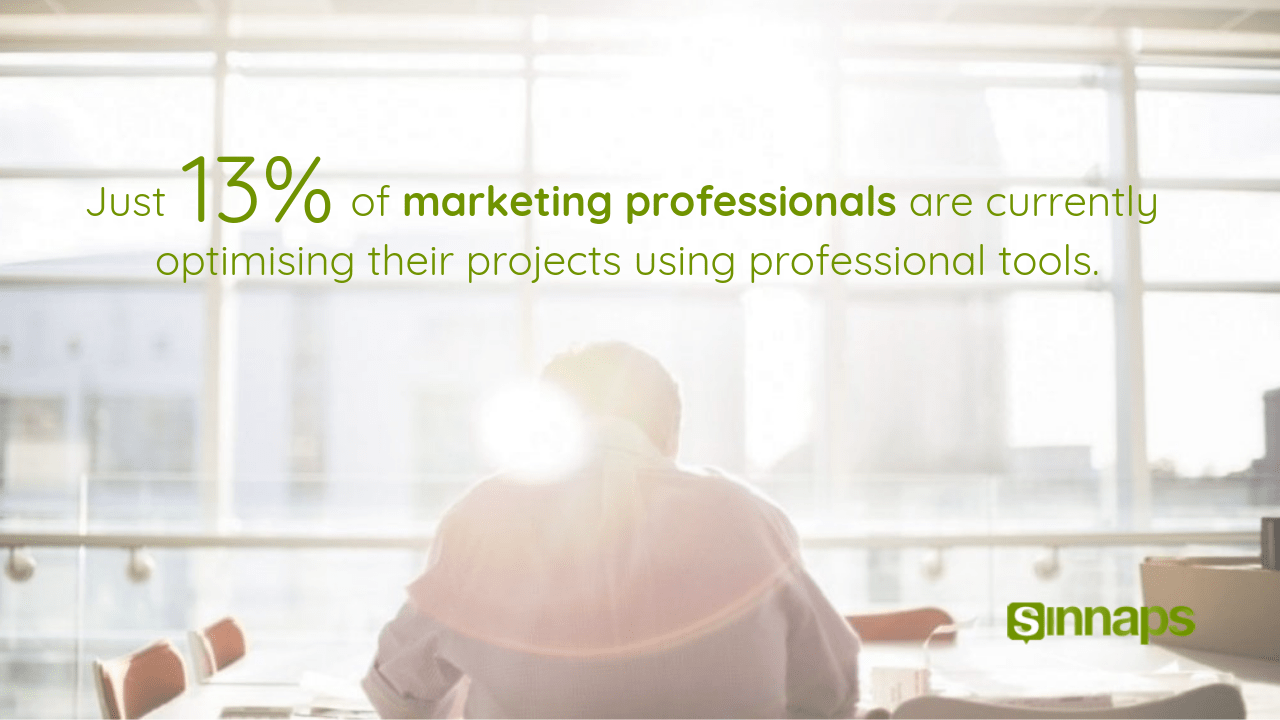 Project Management For Marketers
Marketing is a delicate activity of a business establishment; hence it requires proper management for it to be successful. Marketers are required to embrace project management techniques in their operations. 
Project management for marketers will aid them in achieving their marketing goals through proper collaboration and management of tasks on different marketing campaigns thereby allowing them to optimize their marketing budget.
Also, they can schedule their resources on the different market project and effectively monitor the time spent on each marketing campaign effort and their return on investment (ROI) on their marketing project. 
Manage your teams' resources and workload

Project management for marketers can be used by the business managers of small business organization in managing their small business marketing ideas to boost their growth.
No doubt, business managers are required to juggle between different forms of marketing campaigns such as digital marketing and content marketing. Also, they must ensure that they do not miss out on anything vital.
In getting this done, you can make use of digital marketing plan template excel to plan and manage your digital marketing activities. It will help in the documentation of your digital marketing plan and share it with the relevant stakeholders.
Marketing Calendar Example: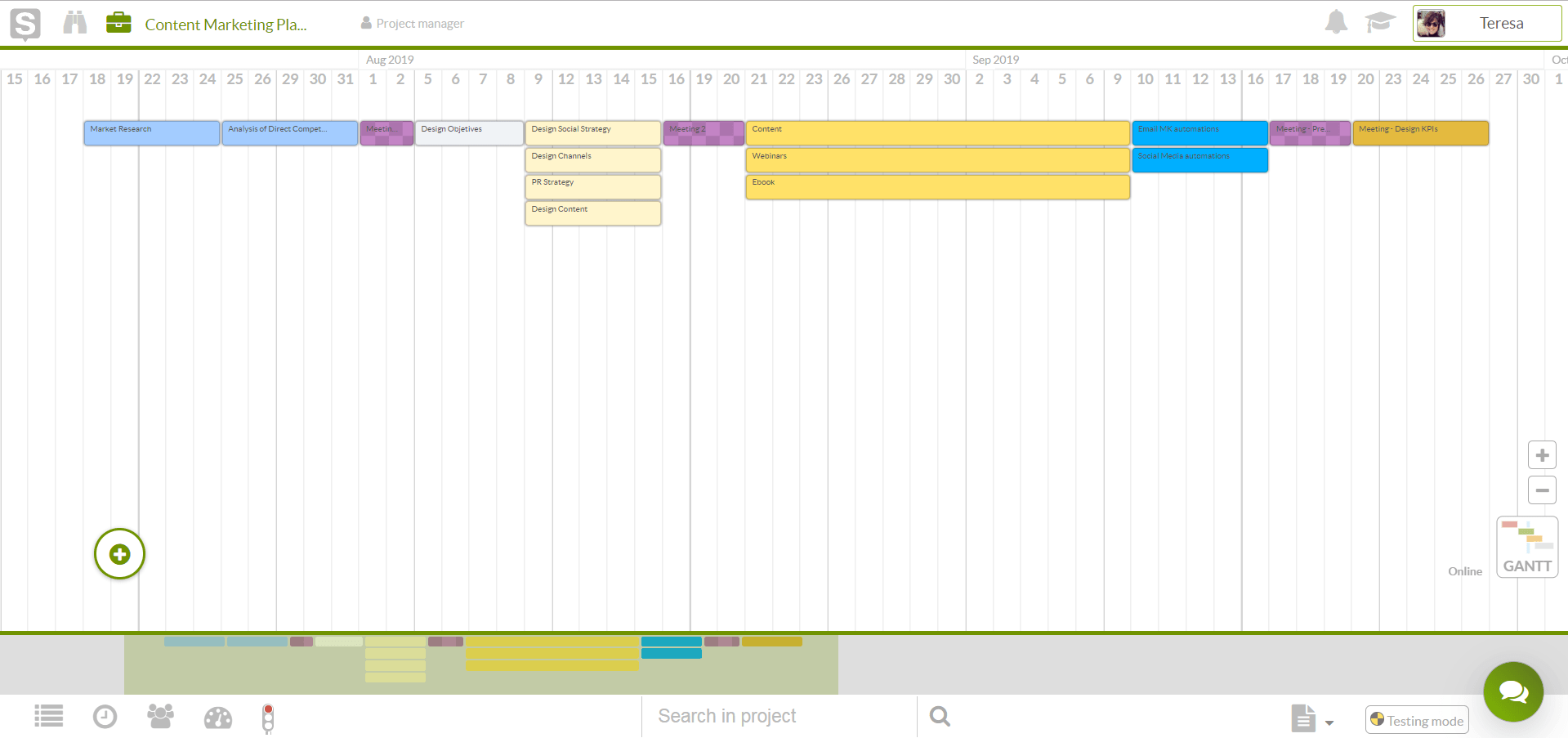 One of the marketing ideas for small business is digital marketing because it is affordable for small business organization compared to other traditional strategies. However, business managers are required to be creative in their digital marketing activities to achieve a competitive edge.
 Business managers should ensure thorough and detailed project management in digital marketing so that they can maximize the opportunities provided by digital marketing because about 3.2 billion people make use of the internet globally. 
 Also, project management for marketers enables you to use inbound marketing strategy to your advantage by maximizing your online presence through lead generation. Again, it enhances your ability to leverage B2B content marketing strategy effectively by developing stories that can promote your business brand. 
Furthermore, the use of marketing Gantt improves the effectiveness of project management for marketers by allowing them to gain a visual overview of their marketing management. It helps in the proper allocation of marketing resources.
 Also, the use of marketing budget template is essential for the marketing teams because it simplifies the process of planning the marketing budget that will be used to execute your marketing campaigns.
 For example, Sinnaps has different templates that can be used in planning and developing the marketing budget of your organization.
Cloud project portfolio management market offers you a process that assists you in analyzing and managing your current or proposed project. It improves the collaborative planning, scheduling, and effective decision-making of the team to achieve the return on investment (ROI) faster. 
Control your projects portfolio: