Trello vs Asana. The importance of having the right project management software has led to various different versions being released on to the market.
The needs of project managers have driven the industry to innovate, and they're now demanding the best software, placing a bigger emphasis on the developers to deliver their requirements leading to Trello and Asana competitors entering the market. Taking time to decide on which software package has the most valuable tools available to ensure you achieve your goals is imperative.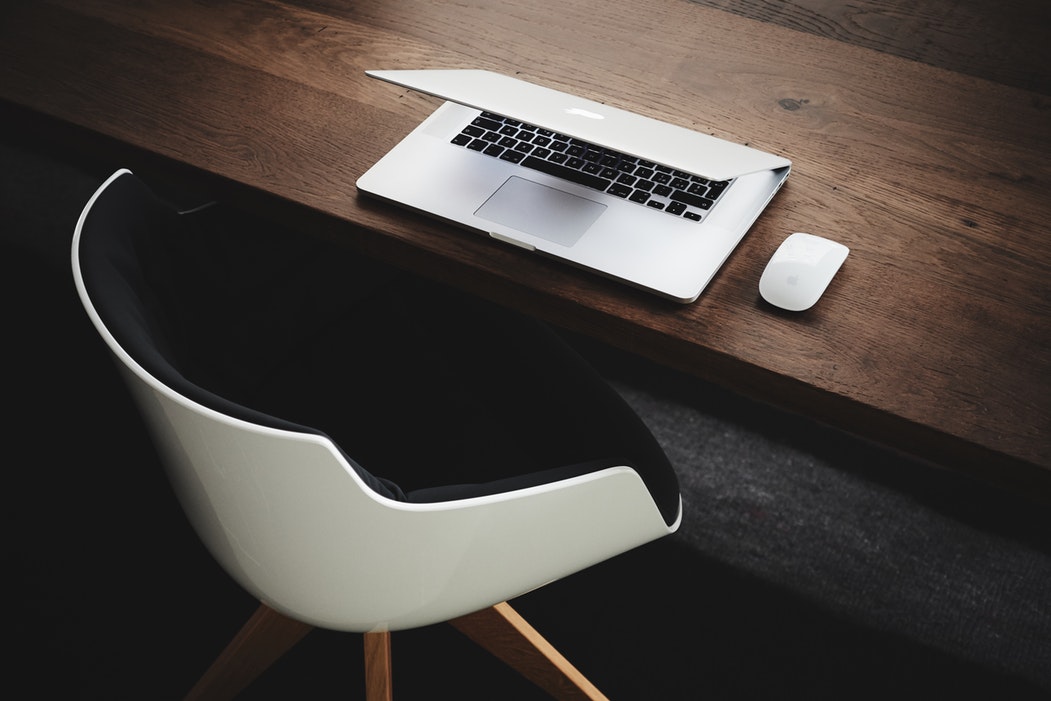 When looking at Trello vs Asana, the functions available for project managers within the software will have a huge impact on the success and delivery of key projects from apps like Trello. From stakeholders to employees the project management software must be able to deliver in-depth metric and cross-functional capabilities. One of the best alternatives is Sinnaps. Let's see how it works!
Trello vs Asana
Trello software is essentially set up to work as a task management system. Similar to Trello, Asana is geared more towards the human element of team management.
When it comes to Trello vs Asana both are focused on two different types of project management structure but both for forward planning and strategy.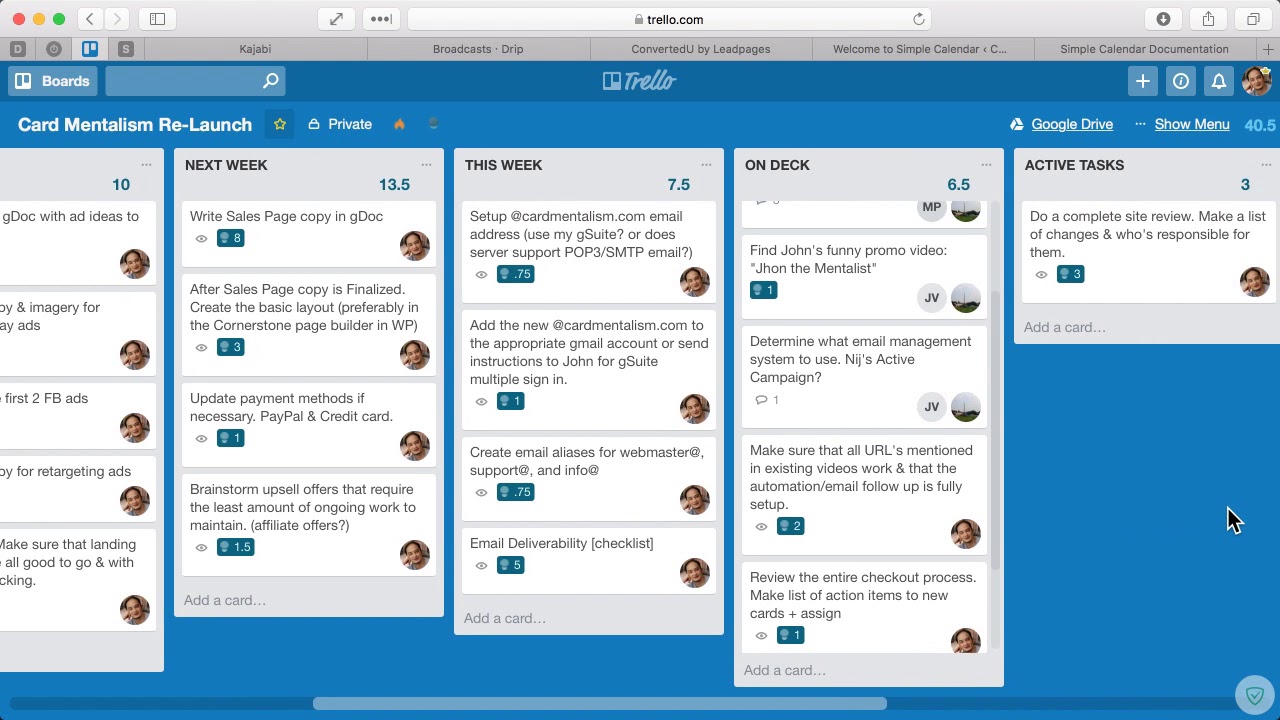 Related links…
Unlike Trello or Asana tools, Sinnaps online project management software offers a more complete set of tools rather than just the project or team management functions offered by Trello vs Asana.
Sinnaps, online project management software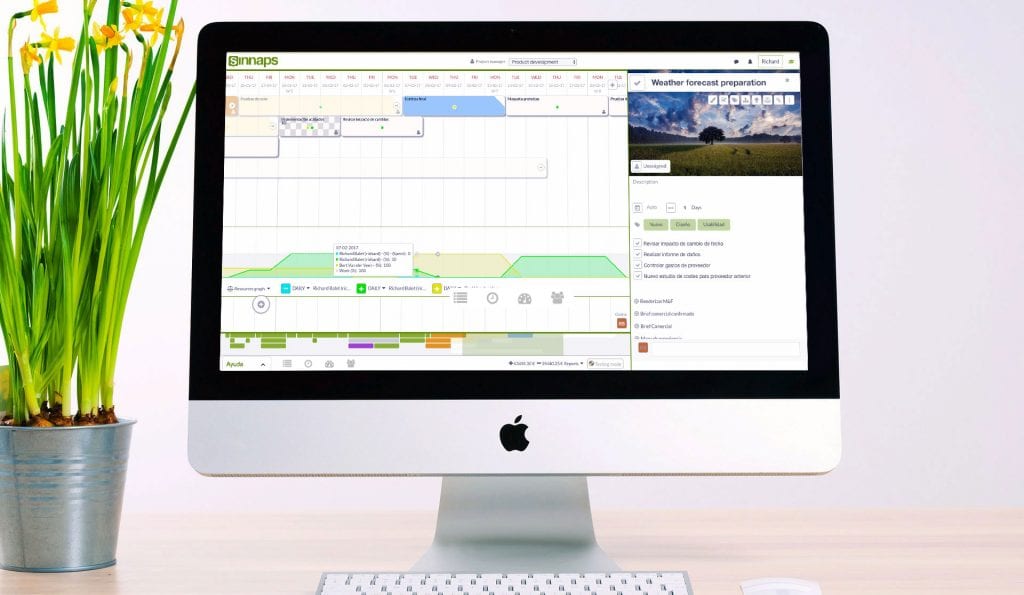 Sinnaps works by prioritising dependencies and deadlines, which requires a combination of both the human team management element and the ability to prioritise deadlines, which sets it apart from both Trello and Asana premium. It also has the added function of being collaborative whilst also having the scope to manage various resources needed in a variety of different scenarios.
Trello Pricing
The Trello pricing structure is suited to its availability of functions and tools. As always, the pricing relates to the number of functions that members have access to. The Trello pricing doesn't seem to account for future discounts when a business begins to grow. By comparison, Sinnaps has this built into their pricing structure so they're ready to grow with you.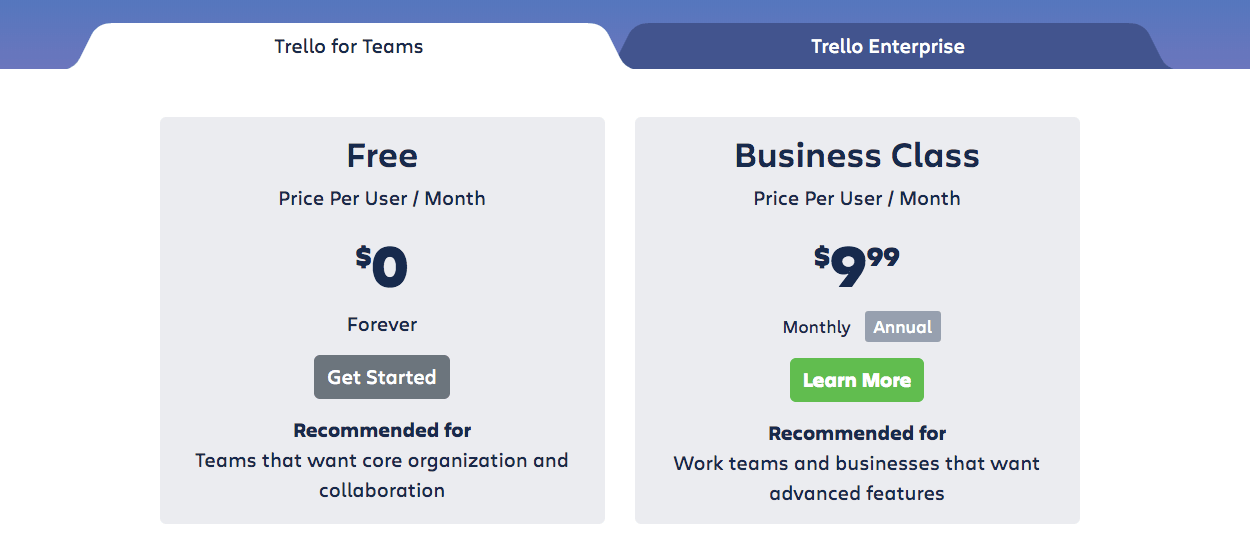 Asana Project Management Software
Tracking time is imperative when managing multiple resources across live projects. As Asana features are set up for the human element this really should be part of the software to reduce multi-platform crossovers and duplication.
The Asana Kanban board within asana project management software is a great visual tool for project management, but it is limited. The Asana project management software task manager looks good and allows you to manage key functions when looking at Trello vs asana.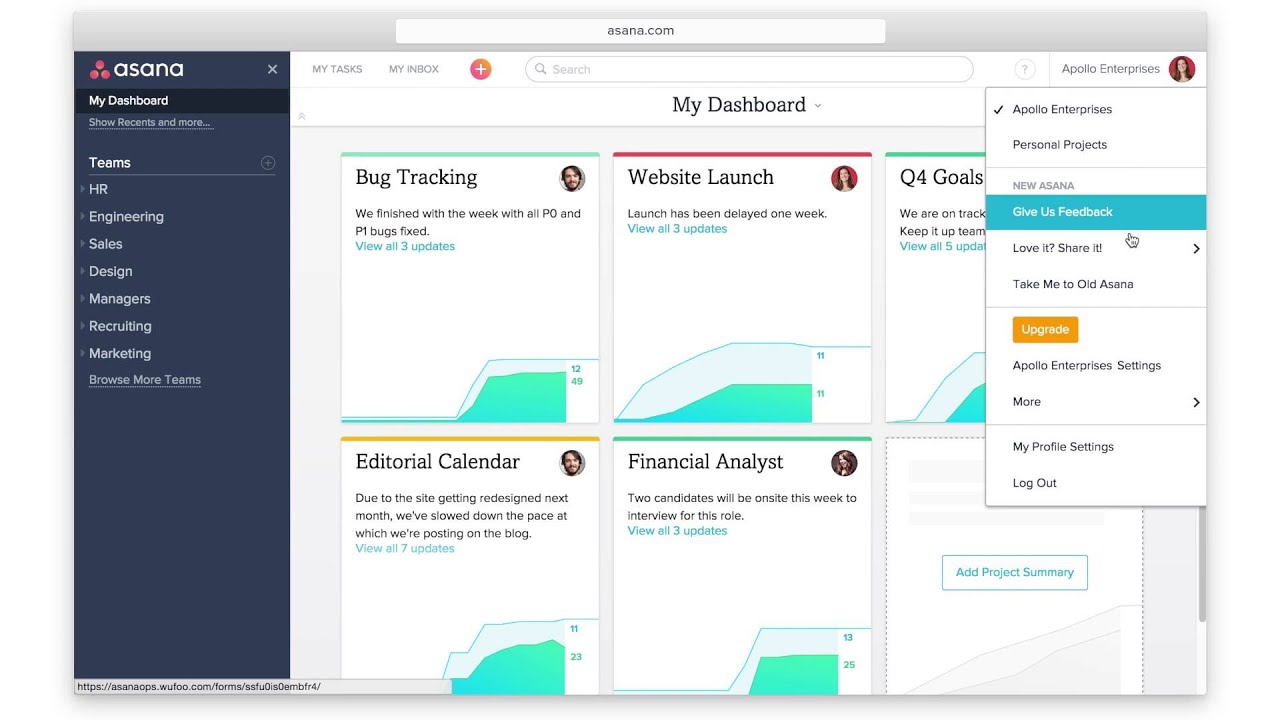 Asana's project management software features and tools are well designed and have a good visual look and feel, but to get the most from them you need to possibly run several software platforms. Project management software like Sinnaps doesn't need intervention from other software. It's built to stand alone and deliver.
One of the main Asana functions is directed towards agile sprint functions which tend to look more at the race rather than the marathon. It is by no means, not a great agile tool, but the project lifecycle should be planned based on critical path thinking and the inclusion of dependencies.
Asana Gantt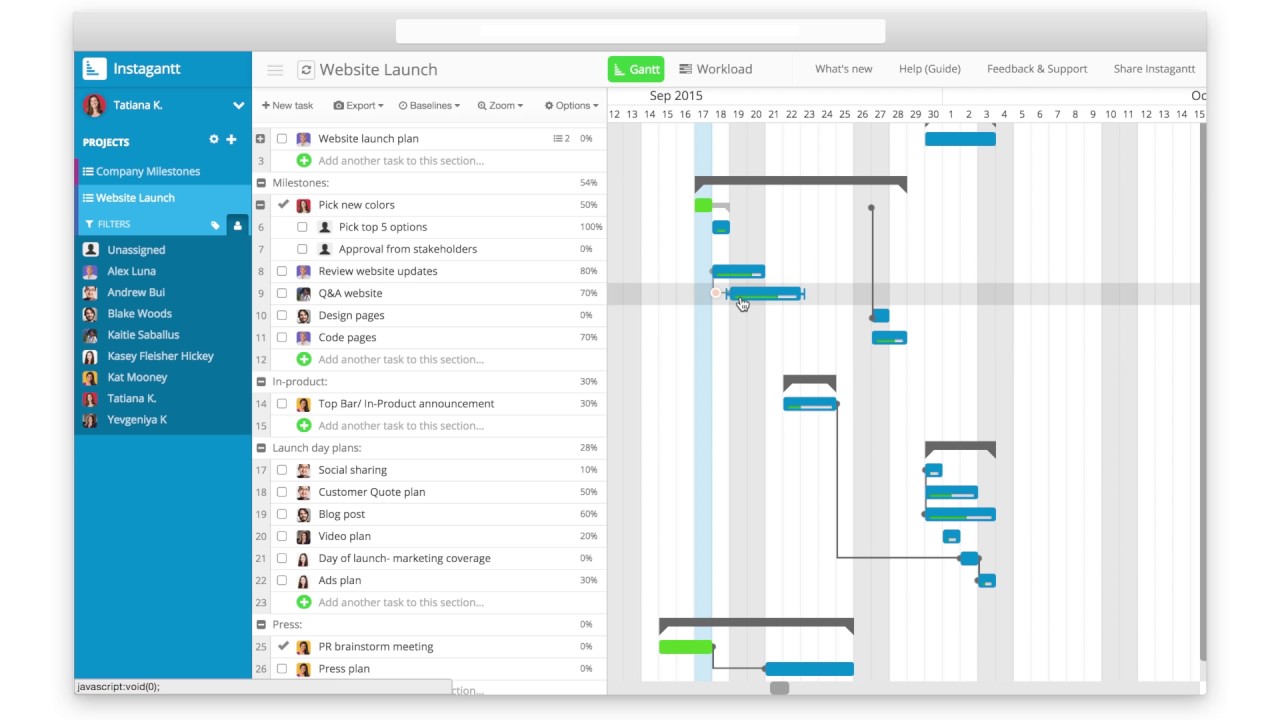 Sinnaps: Trello Alternative software
Trello can offer some great functions for project management, but it misses the collaboration function and the built-in ability to recognise project related dependencies and plan for them. Sinnaps is able to offer something more unique by calculating the critical path and managing task dependencies to ensure deadlines are achieved.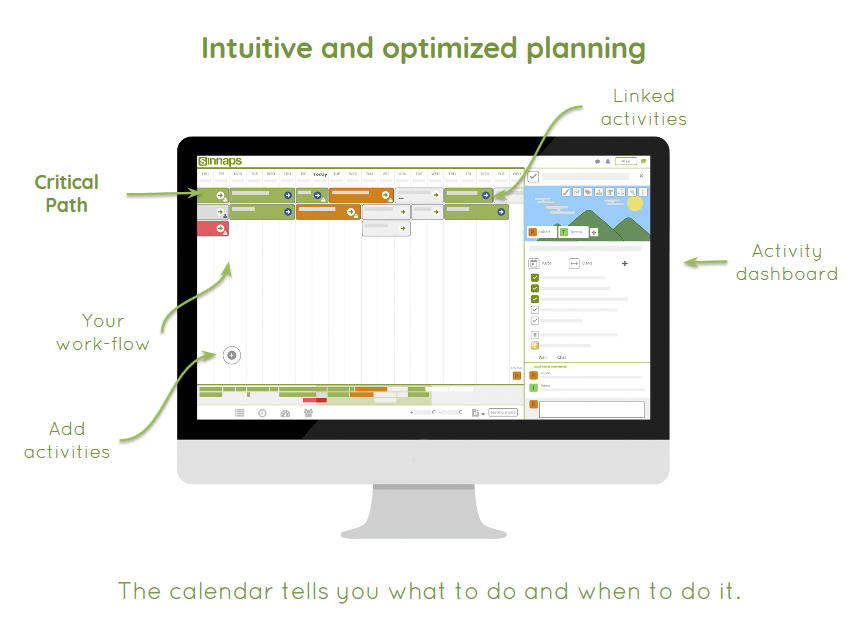 Trello on-premise looks agile but it lacks the ability to fully integrate report/goal/code with the levels of organisational management being somewhat limited. It's also possible to lose written text notes as the description cards, unfortunately, don't autosave the text you've entered. An alternative to Trello both Asana and Sinnaps prove more agile when it comes to this type of project management function.
Key Project Management Software Functions
The ability to demonstrate critical path planning and understanding interconnected dependencies within one system helps to streamline processes.
Management and control functions
This also gives better control when planning and managing project functions from any location at any time. Overall Sinnaps is able to offer the best multi-function project management software. It fills in the gaps left by alternatives such as Trello and Asana.
An alternative to Trello, Sinnaps provides a more constructed and agile environment to provide you with the tools to better manage the digital environment.
Slack and dependency functions
Sinnaps software understands the requirements for interconnection, collaboration and the need to fully manage dependencies. With this combination in Sinnaps, the slack of activities is accounted for and managed. This ensures deadlines are managed and met with efficiency.