The word Kanban come from the Japanese word meaning visual signal. Kanban is an effective way to visualise the workload of your projects and to therefore optimise the workflow. In this article, we will take a look at what Trello Kanban offers you in comparison with Sinnaps project management software Kanban.
Kanban Trello
If you are wondering is Trello Kanban, then the answer is yes. The Trello Kanban board allows you to follow the traditional use of a Kanban board used for effective project planning. The Kanban with Trello gives you the option to use unlimited Kanban boards and lists to track the progress of the activities as part of your project workload. However, it lacks a developed timeline view and the option to have project folders.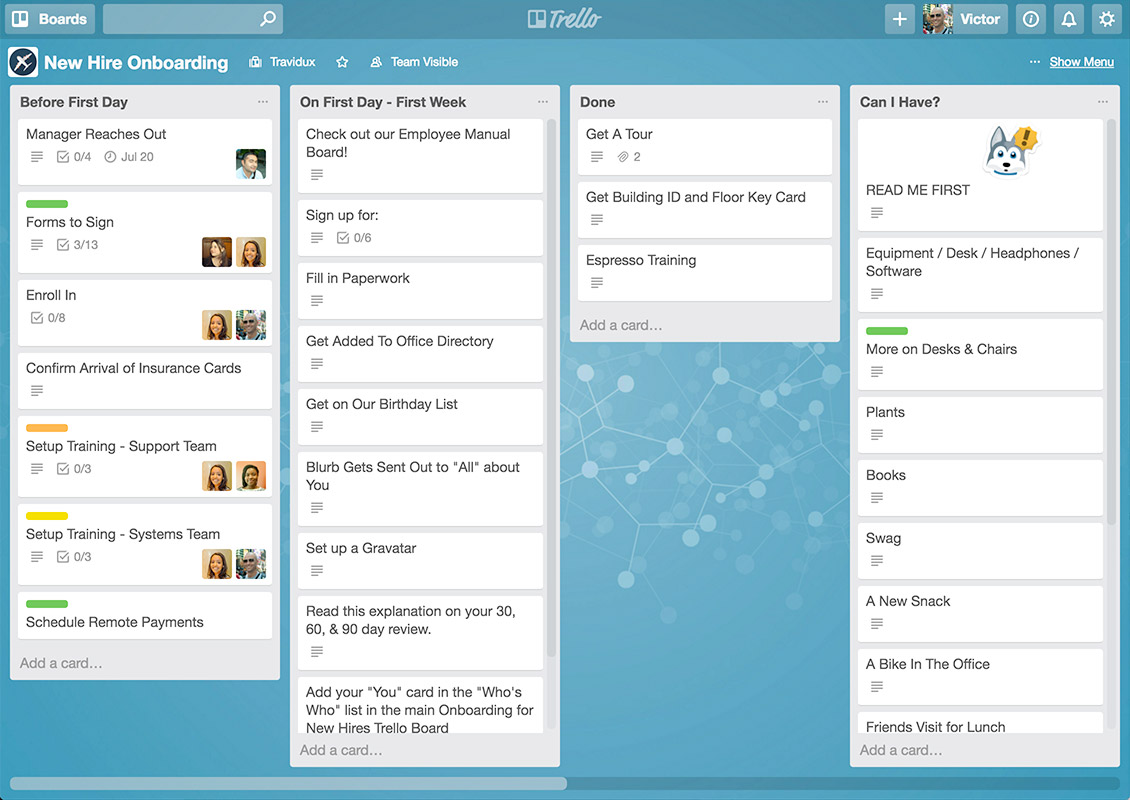 Sinnaps project planning app is cloud-based and allows you to have multiple Kanban boards for different projects by providing a list view of all the project that you are involved with. Team members can be easily and clearly assigned to each task on the Kanban board visible to the project team from first glance.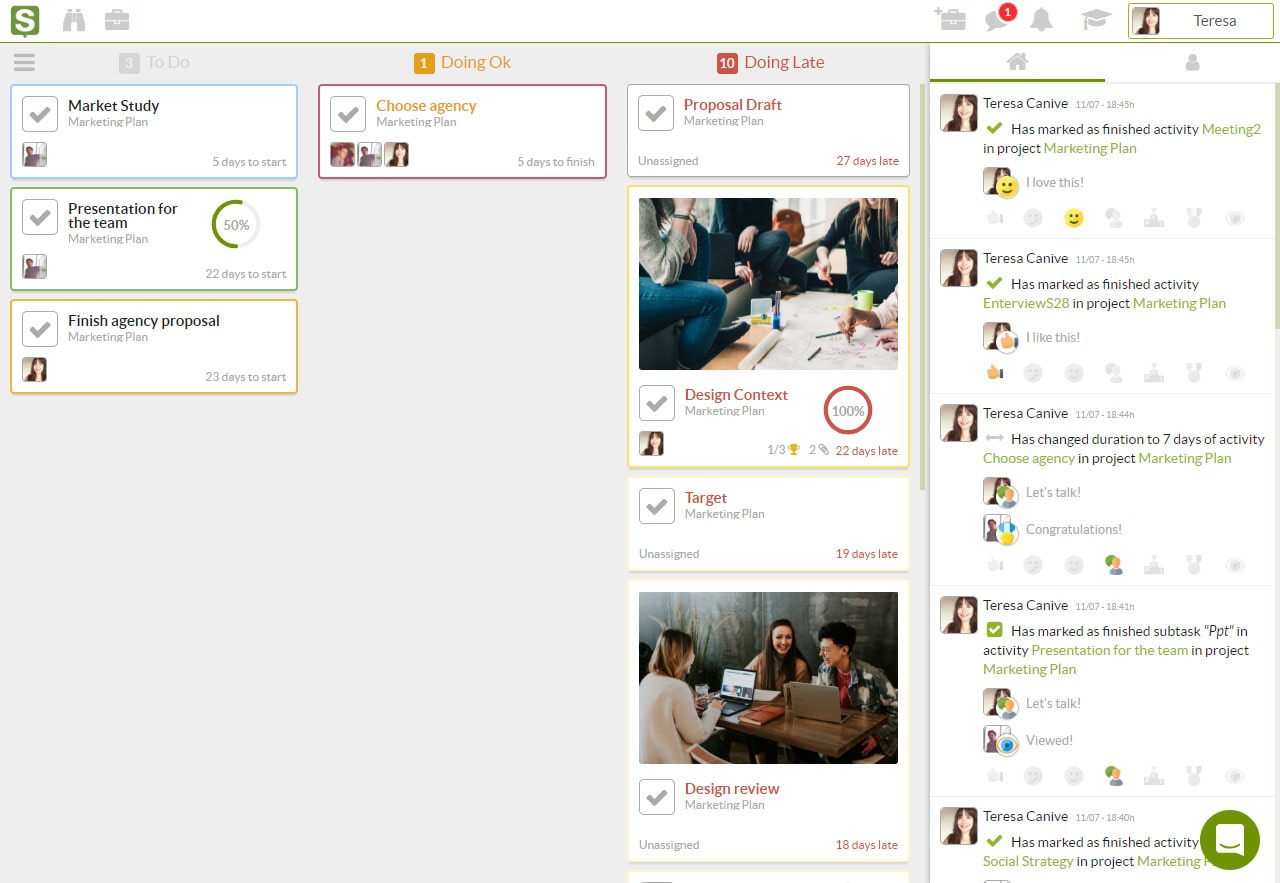 Sinnaps allows you to see from first glance of the Kanban board the amount of days until a task needs to be started and by whom as well as including room for detailed task description and the option for adding subtasks to break down more complex activities. Sinnaps Kanban board is also directly linked to your planned project timeline and prioritises automatically from top to bottom the activities that must be done first in order to meet deadlines.
Filters are included so that you can look at projects according to the activities you want to see and each activity can be validated once it is completed so that everyone involved is aware of the progress. The activity board for each activity let's you see more detailed information about the task, attached documents and who is involved in each activity. Subtasks can be easily created and managed. All of these aspects help to increase the productivity of your project team.
With Sinnaps Kanban tool project teams do not waste time in learning how to use the application as it is easy-to-use and very intuitive. This feature of Sinnaps serves as motivation for team to work in a much more collaborative way as they waste no effort in studying the tool and how it works beforehand.
All about Kanban Board
Some recommendations…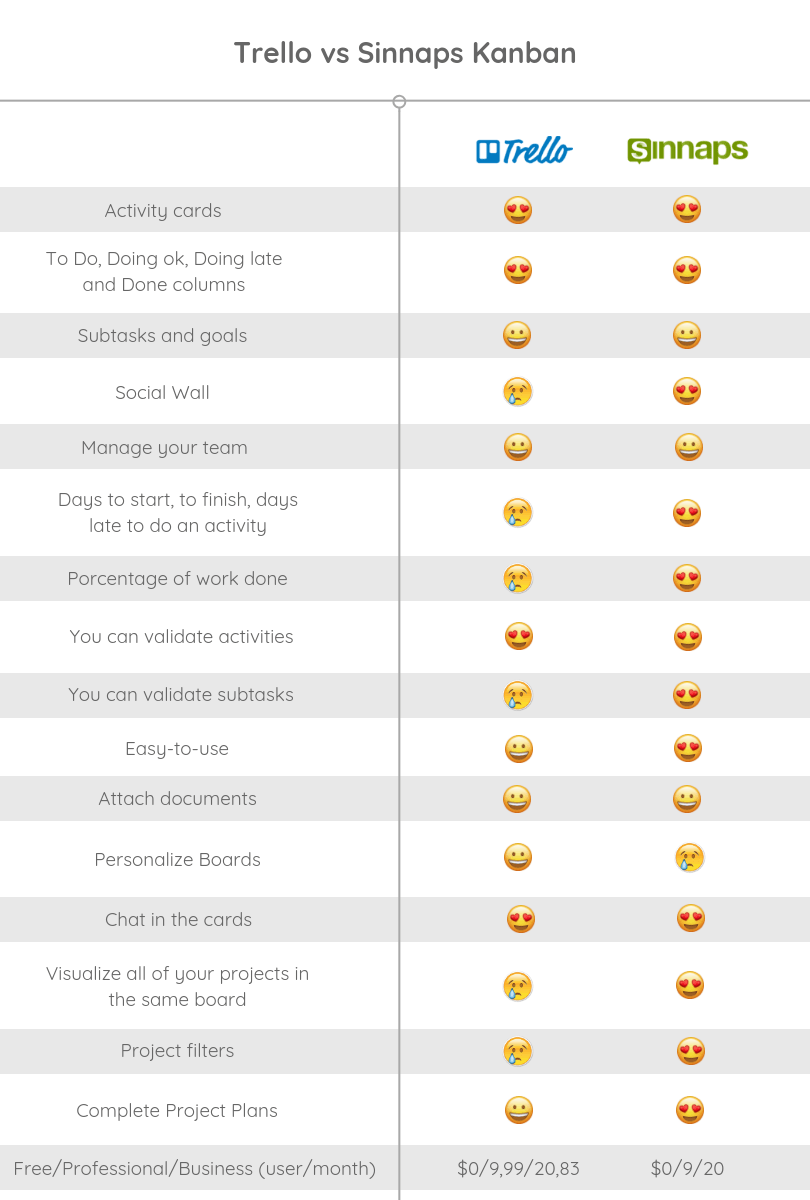 Trello Scrum Board
Any Trello Kanban example will clearly show you the flow of your work and is an effective way to make team members aware of the structure of the work of the project. However, communicative tools within the app require more development. Communication in a project planning software is essential so as to take advantage of the most efficient way of carrying out a project, especially if working as part of a decentralised team.
In terms of Trello and Kanban as separate tools, Trello is a more developed version of the traditional Kanban board and takes what used to be physical sticky notes on a whiteboard and brought it online, which is much easier to organise and keep track of.
Sinnaps project management software has multiple communicative tools included as part of the Kanban board such as the project wall which can be brought up alongside the Kanban board. The project wall updates everyone involved with any changes or additions made to the workload of the project. Live in-chat features allow team members to resolve any issues or doubts regarding specific project tasks on the Kanban board.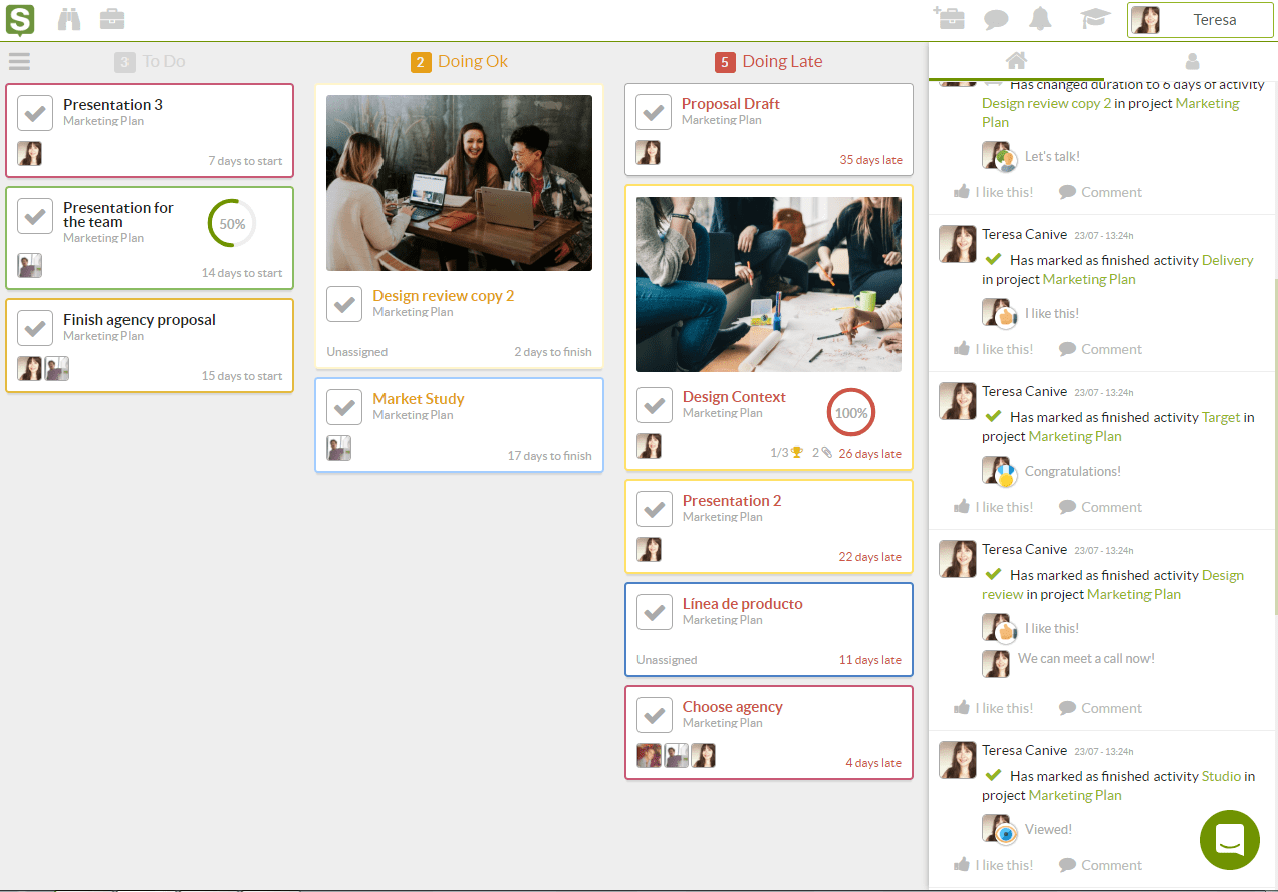 Sinnaps Kanban board moves towards being like a social media page for each project, allowing team members to identify when a task that they have been assigned to completed and to see which tasks are most pending for completion as soon as they enter the app and open the Kanban board.

Kanban Board Trello
Kanban in Trello is used to create unlimited checklists effective for project progress however, the Kanban Trello board requires more development in the area of checking the project health status. Drag and drop support, unlimited storage and secure data encryption are all included as part of the Trello Kanban plugin.
Traditional Kanban never offered reminders for team members. However, most modern Kanban tools, such as Sinnaps, offer weekly updates and reminders to teams in terms of what requires specific attention and the overall project progress. The Kanboard vs Trello in this sense come in a tie as neither the traditional form of Kanban nor Trello offer project reminders.
Sinnaps Kanban tool also includes KPIs which are Key Performance Indicators. These indicators allow project teams to closely follow the health and progress of the project. As Sinnaps is a cloud-based software, all Kanban boards and everything contained within them such as documents, reports and anything else is safely stored on the cloud meaning that your project and information is safe.
The Kanban tool vs Trello and vs Sinnaps comes down to a few key differences. Each app has certain areas to develop. In terms of the Tello vs Kanban tool, Trello lacks the ability to communicate effectively and to manage recurring tasks. In terms of Sinnaps' Kanban tool, it is only available in two languages.
Overall, the Kanban Trello board can be used to effectively plan the workload of your projects, however at a more basic level in comparison with online software such as Sinnaps which includes other tools to help with the complexities of a modern project while also allowing for efficient communication between the team. Let us know in the comments what you think of the Kanban Trello board and the Sinnaps Kanban tool! 😊