Being able to use a weekly planner online is essential for proper management. The main benefit of weekly planner online is that it allows you to plan concisely and reliably in the long term so that you can record how you approaching and meeting the project's goals in real time.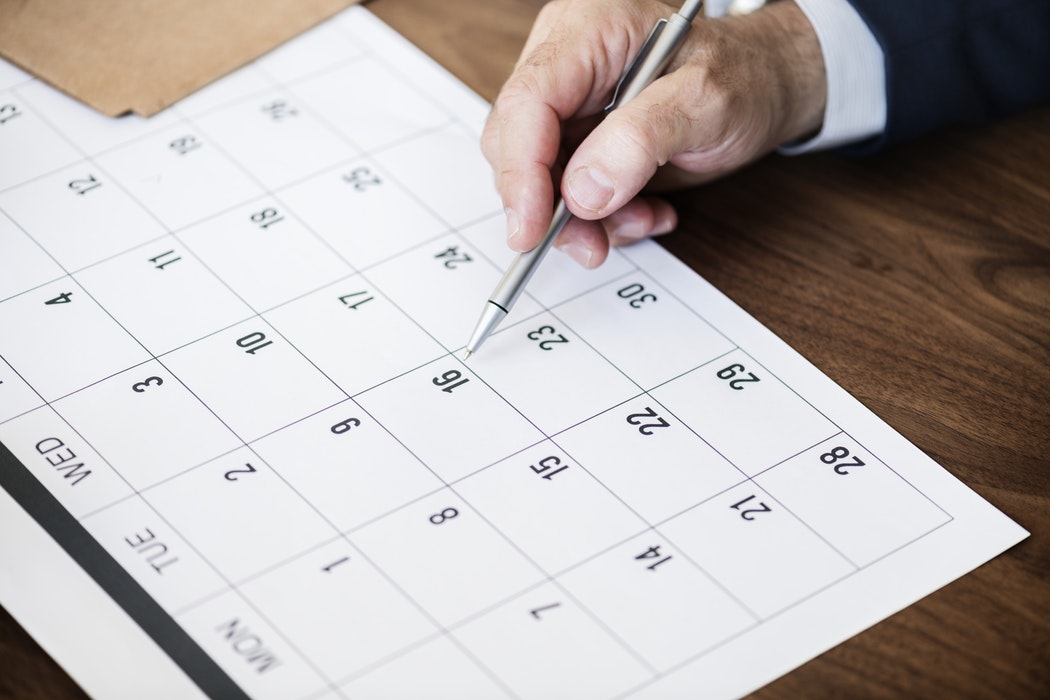 Knowing exactly where you are as a team and what needs to be done to stay on track to project completion using weekly planner online is excellent for helping maintain and boost motivation within your organisation. Sinnaps, project management software, also provides all of this in a well laid-out visual format, meaning that all parties should be able to understand the way it is presented. A weekly work schedule template is important for keeping and staying consistent each week, as mentioned in this article.
In general, a well-made daily and weekly schedule app is essential for staying consistent, as without it you could find that there is time that would have been better spent focusing on different tasks that the ones they were used on.
Daily Calendar Template
A daily calendar template is a way of keeping track of what needs to be done on a day-to-day basis. The benefit of this involves being able to assign meaningful tasks to each day, allowing you to remain productive regardless of the situation and current state of the project.
Having meaningful tasks assigned each day especially assists in managing workloads that can get particularly difficult, such as when there are large number of people assigned to various different tasks, which is why Sinnaps is particularly useful for this as it presents information within your daily calendar template in an easy-to-understand format.
One way to make this is by using a daily schedule template. Excel is the tool to use for this type of time schedule template and many templates exist for this purpose and many other purposes such as a calendar schedule template or a weekly planner template. Excel is great for many types of templates.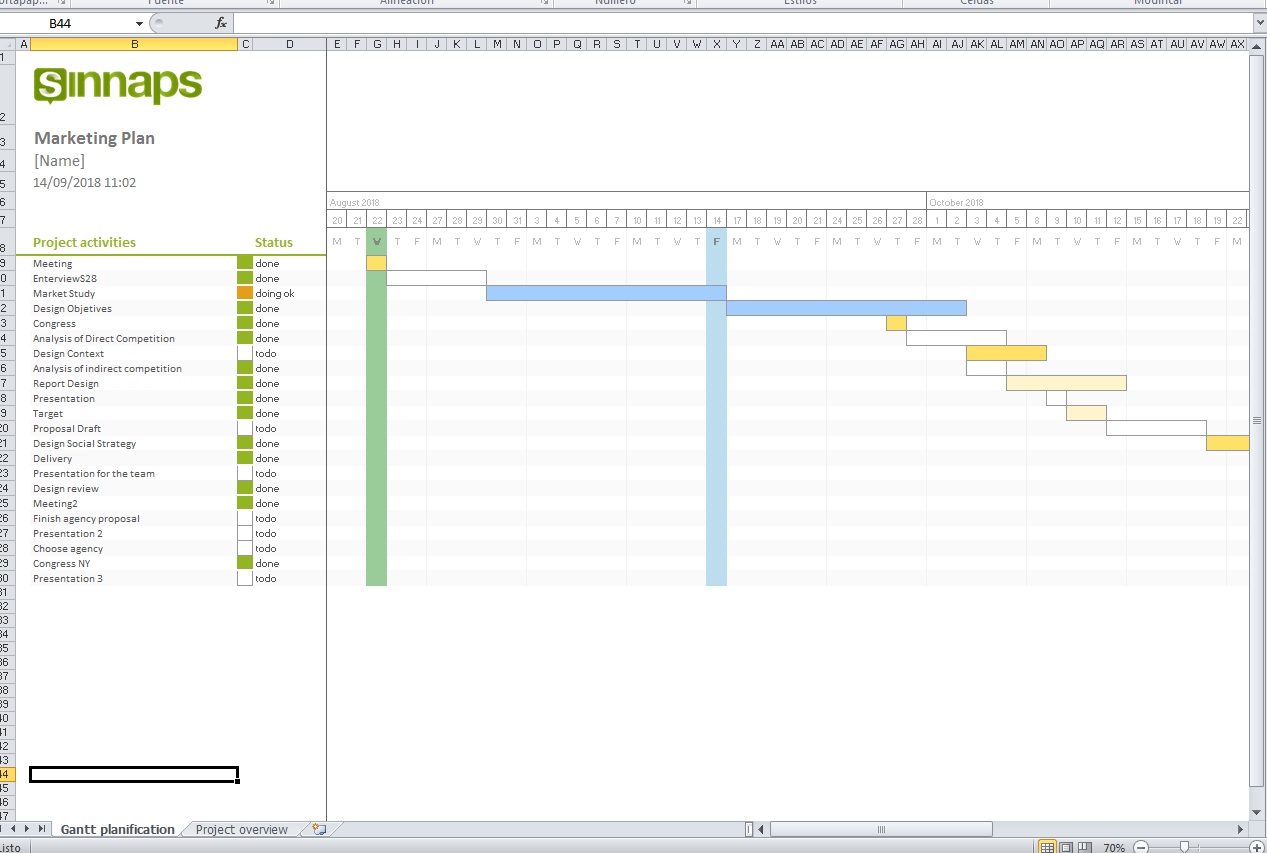 Related links…
The Online Project Planner is Sinnaps
Monthly Calendar Planner Online
How to make your own Planner
This section will explain how to make your own planner. When first asking how to make your own planner you need to consider what exactly you will be using it for, considering factors such as the project it will used to undertake as well as each milestone, task and who will be carrying out that specific task as they are all important factors to consider in order to ensure that your own planner is as effective as it can be in achieving your goals.
Using the critical path method that Sinnaps provides, you can create an intuitive timeline that helps to determine the most important tasks that need to be accomplish so that everything else can progress as intended.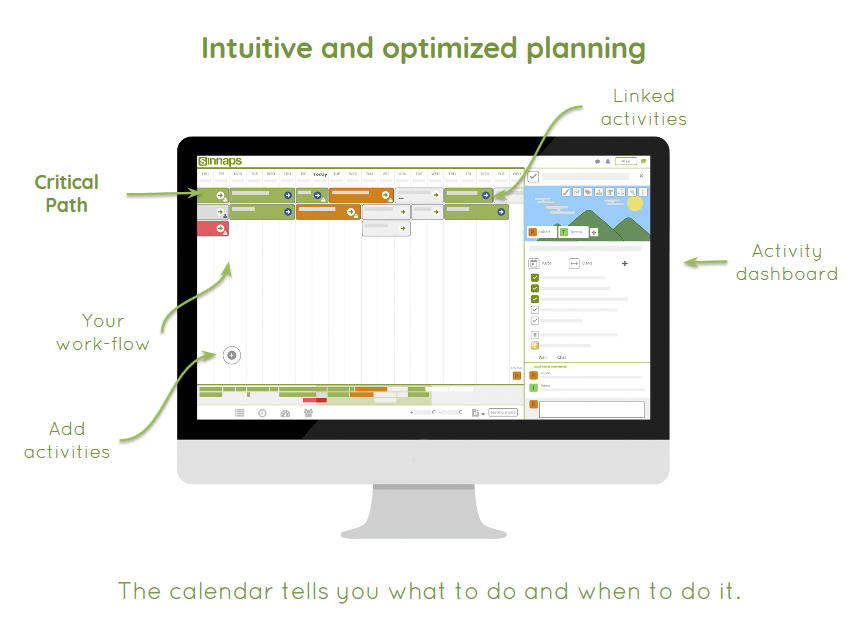 The resources required, team member assignment, roles and the dependencies between each of the tasks that will be undertaken are all important factors to consider when making your own planner.  
The critical path method is particularly useful as it helps to decide what task must be undertaken first and how it relates to the rest of the tasks that need completing, prioritising and automatically calculating the best work paths.
You can also budget effectively, as it provides a way to simulate multiple scenarios and budget for each of them, allowing you to weight and consider multiple situations and how to best tackle them in an effective and systematic manner.
Maximisation is also possible, as everyone's workload is visible at the same time, improving project management by optimising time and maximising the resources available to you at any one given moment.
Sinnaps also provides recommendations based on the data it receives, interpreting it to see how it can be improved and better managed in order to achieve greater results. Validation, communication and proper control of the situation can all also be established via the use of the features that Sinnaps offers.
Finding The Best Daily Planner App
When considering which of the many daily planner app that are available for use is the best daily planner app, Sinnaps is one that particularly stands out due to its unique and effective combination of features and options that users have access to.
Not only does it have an intuitive, easy to use layout that lets you start working seamlessly from the first time you sign in, it also is designed for just about everyone, allowing it to be useful in a variety of situations for beginners and experts alike.
Entire times will benefit in many ways when using Sinnaps. There's also a large number of tutorials, help, support and explanatory videos that can assist you with just about any of the questions you may have when it comes to using it.
Finding a the best daily planner app involves finding an application that has a variety of options, a seamless user interface and is designed in a way so that using it is intuitive and doesn't get in the way of simply organising tasks. This is so that data can be organisation is a fashion that is effective and simplistic.
The same goes finding the best weekly planner app for your own use– it needs to be easy to use and well designed in order to be considered as a good option. Web planning, personalized planner organizer, calendar planner organizer or just a simple online schedule planner can all be effectively done with a good planner application.
In conclusion, weekly planning is an effective way to ensure that projects are carried out and completed on time and in a systematic manner. It also helps ensure that time isn't wasted, day-to-day processes are carried out effectively and that each team member has something important to accomplish each day.