When working on complex projects, with extensive plans and a large volume of activities, it is necessary to apply a series of ploys to make our work more productive.
One of these ways of interpreting the planning at a glance is by personalising it. How? By simply assigning particular colours to certain activities, we are highlighting those of most interest to us or those which are linked by a specific issue.
IDEAS FOR PERSONALISING YOUR GANTT-FLOW AND BEING MORE PRODUCTIVE
We'll give you some ideas on how to personalise your planning, based around different parameters. Classify your activities according to…
Strategic lines in the project
Departments assigned to the activity
Meetings and events highlighted with a particular colour
Project stages or activity blocks
Result or objective types for each activity
If we're in charge of a group of activities
SINNAPS PRIORITISES
Don't forget, Sinnaps will prioritise the most critical activities, placing them from top to bottom on your Gantt-flow. So, the most critical work path – and the first to be followed up on a daily basis – will be the one at the top.
The prioritisation axis is vertical. This way, you won't need to assign a specific colour to the most important activities.
HOW DO I PERSONALISE MY SINNAPS PLANNING?
Coloured activities
Sinnaps enables you to colour activities in the following way. Enter the activity panel and choose the following button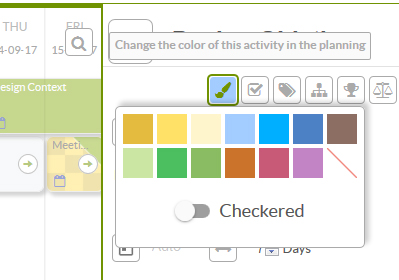 When an activity is coloured, all project members will be able to see the colour.

What's more, in the upper right-hand corner of the activity, we'll continue to see one colour or another depending on the state of validation.
Highlight activities
Remember you can highlight activities in your planning as follows, by clicking on "checkered".