The project wall is the automatic record of all relevant events that occur from the start of the project to the day we consult it. Thus, we are informed at all times and we have an overview of everything that is happening in the project.
It is one of the most important communication tools to keep the whole team informed of changes.
Knowing that things are being done in the project is vital in order to have a united work team. It is not the same to see planning in which the only thing that happens is time passes than to see planning where you have activities validated, documents attached, activities progressing, etc. In short, living, breathing planning.
Far more than a simple wall
The project wall is particularly important to keep the whole team informed. This translates into creating a united work team that is motivated, does not feel isolated and records its everyday work.
One of the key reasons why many people prefer not to work at distance is the feeling of isolation. You need to feel you are part of a team. And we achieve this through constant communication. If we see things are happening on the planning, that it remains active automatically, we feel our work is borne in mind; we know what our colleagues are doing and we start to work with greater motivation. 😉
Chronological activity grouping
The Sinnaps project wall, found below project planning, gathers all the most relevant changes in your project and classifies them by activity to keep them organised. They are organised chronologically for each activity. And tell the story of this activity.
If you click on the title of the activity, you go to its panel to obtain further information.
Additionally, changes in an activity automatically appear on the activity and project walls.
Tip: by starting each day with our planning, we recommend reviewing the project wall to see if anything has been changed in things in which we are involved.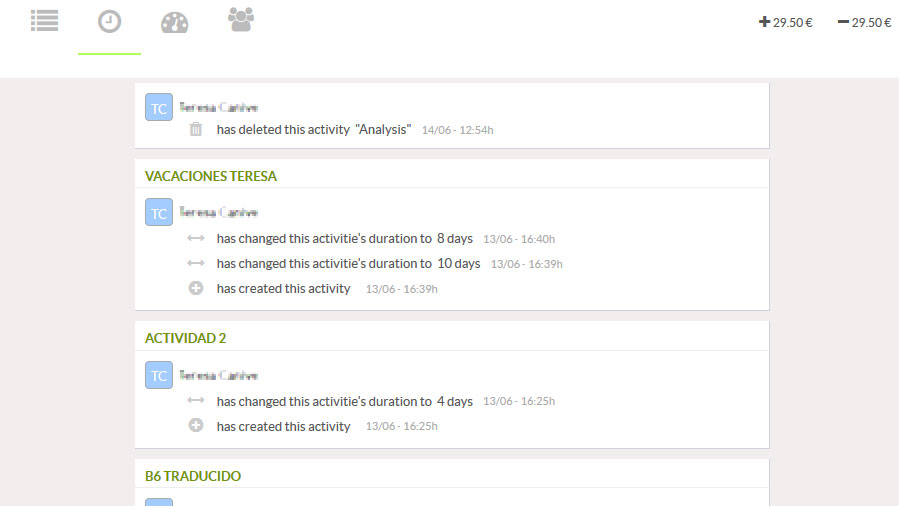 Eliminate an action from the project wall
You can remove an action from the wall itself, whenever you are the person who created it.
Just click on the cross to the right and it will also disappear from the corresponding activity wall.
And remember.. If you want to have improvised meetings or if you just want to know who is currently working on your project, check who is online. Do it by looking at the "online" people icons in the lower right in your project planning.