Sinnaps automatically calculates your project's planning based on dependencies (PERT), durations (CPM), start or finish dates and milestone dates. Each time one of these parameters changes, the tool may vary the way it is represented, as it reconfigures to find the optimised work path.
That's why unlike with traditional Gantt charts, we can learn a great deal about our project by observing how it's represented in the Sinnaps activity flow (Gantt-flow).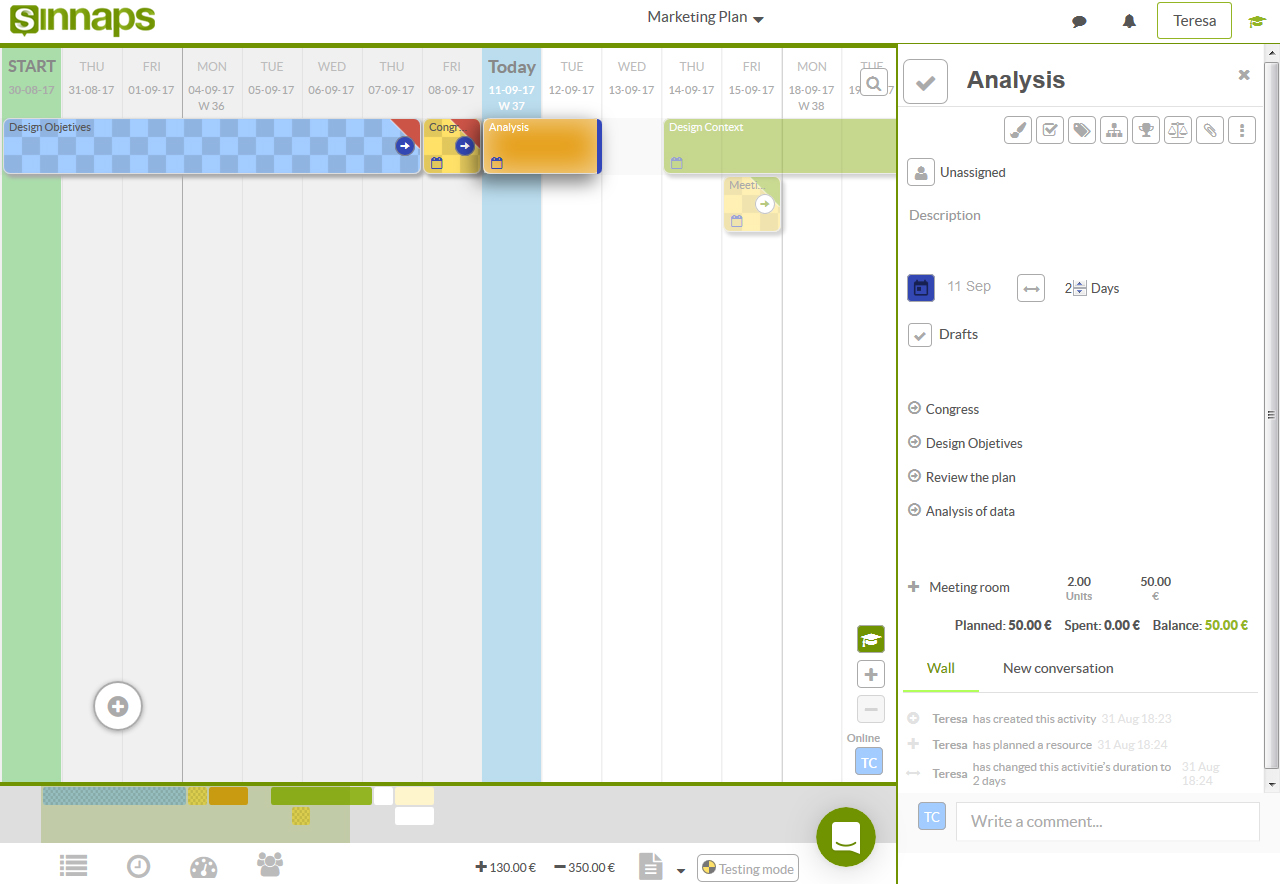 Horizontal axis:
As with a traditional Gantt chart, the horizontal order is indicated first by the date when the activity starts. Logically, the further left the date, the earlier it is and the further right the later. Many activities allow for a range of dates as the start date and to provide the Project Manager (PM) with greater reaction time. Sinnaps assigns these activities to the earliest possible date, meaning the PM can postpone them if necessary.
Vertical axis:
Unlike the traditional Gantt chart, the Sinnaps Gantt-flow orders the activities top downwards based on their impact on the critical path (CPM). This way, all the activities in the upper row comprise the critical path for our project. The further down we go, the less the impact on the project.
Any change in the planning may affect the CPM. That's why it's possible for an activity to be part of the critical path in one plan, but this no longer be the case following a few changes (and, therefore, it is placed further down).
BEARING IN MIND THESE IDEAS, WE CAN OBTAIN LOTS OF INFORMATION THROUGH THE SHAPE OF THE PROJECT'S GANTT-FLOW
The activities on the upper row comprise my project's critical path (CPM).
Activities one below another are undertaken in the same period of time.
Isolated activities are a bottleneck in my project.
The lower an activity is placed, the greater leeway there is to postpone it. This helps us to prioritise and take timely decisions.
If you want to learn more about how to plan complex projects. We recommend this lesson of our free online project management course.
Related links…