Managing projects takes a lot of organisation, so having dedicated project management software which provides real-time tracking is essential. Making sure you have the best time management system will ensure you have complete control over as many live projects as you need. Management information is readily available in real-time reporting, so any changes and developments will be based on actual data and statistics.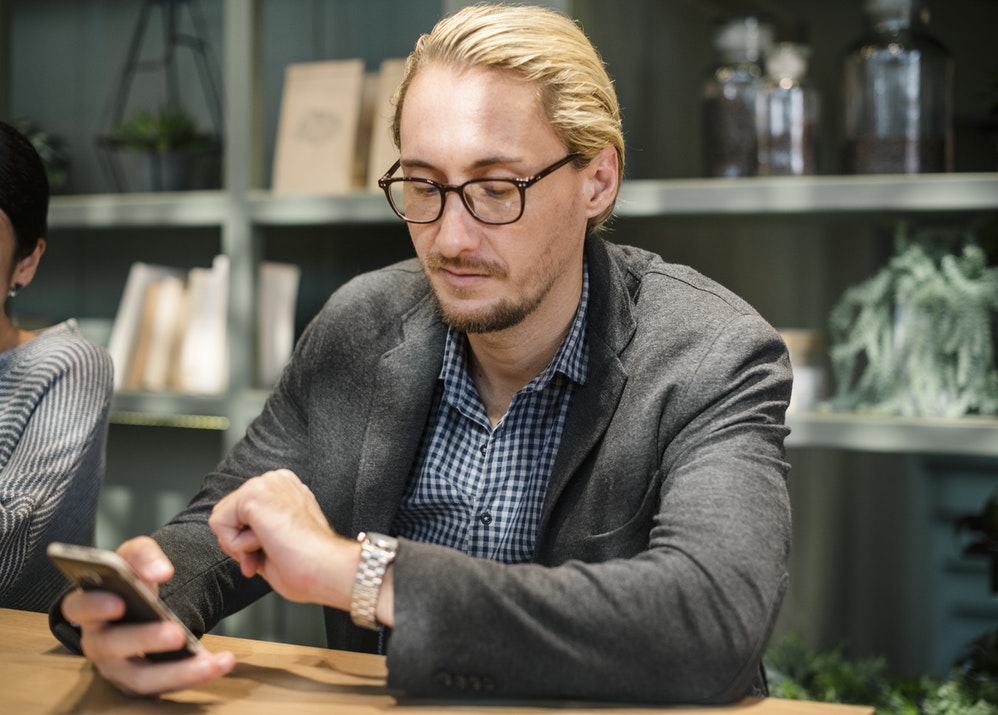 Sinnaps tools
Sinnaps tools work by letting you achieve strategic goals throughout the project cycle giving you control. You can easily search for activities, resources, goals, tags, documents and sub-tasks.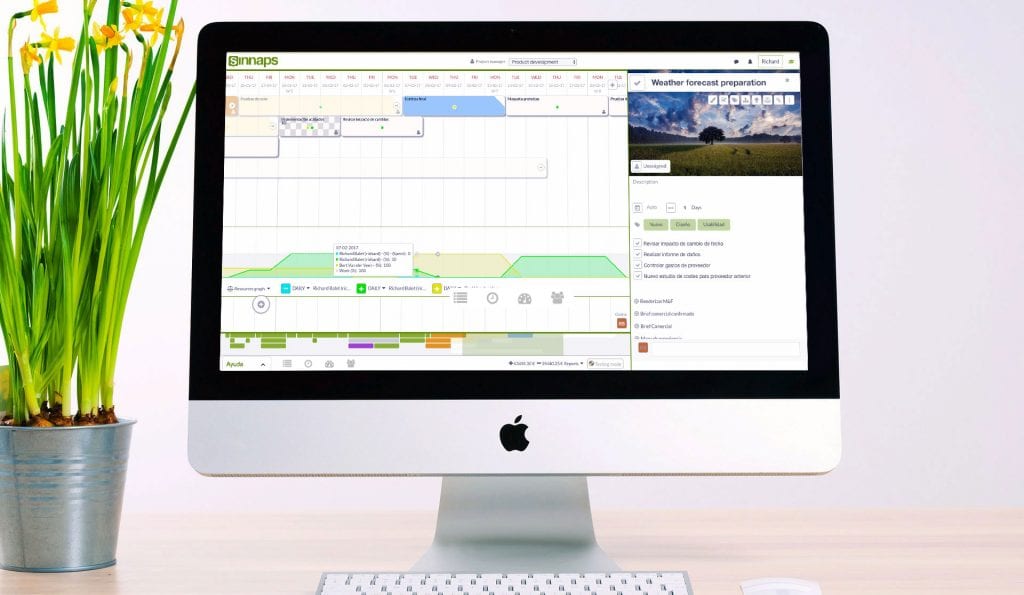 With the project roadmap, you can keep an eye on several projects at once in one easy single calendar view. There's also a list of important details at your fingertips, including budget and project status.
Related links…
Agile Sprint for you Real-time planning
Real-time reporting system
As projects develop and change, keeping up to date is key. Real-time reporting means you can focus on any changes as projects evolve and define and implement the next actions that need to be taken, without missing vital information.
Managing KPI's is one of the best ways to stay on top of any project, and real-time reporting gives you stats and data to make informed decisions and share information with other team members. If something is taking longer than it should or not going quite to plan, you'll be alerted and be able to deal with any changes in good time.
Earned Value Management is a renowned technique which covers all aspects of real-time project management. Including the Actual cost, planning cost, cost variance, cost performance index, schedule variance, schedule performance index, budget at completion and the cost schedule index.
The Sinnaps EVM panel tracks each one of these KPI's giving you continuous project evaluation at your fingertips.
Real-time tracking
Real-time tracking becomes even more essential when you're running several projects at once. It provides an automated scheduling process which is highly result-oriented. This helps to ensure better management of staffing costs, improving and optimising productivity and maintaining employees' satisfaction.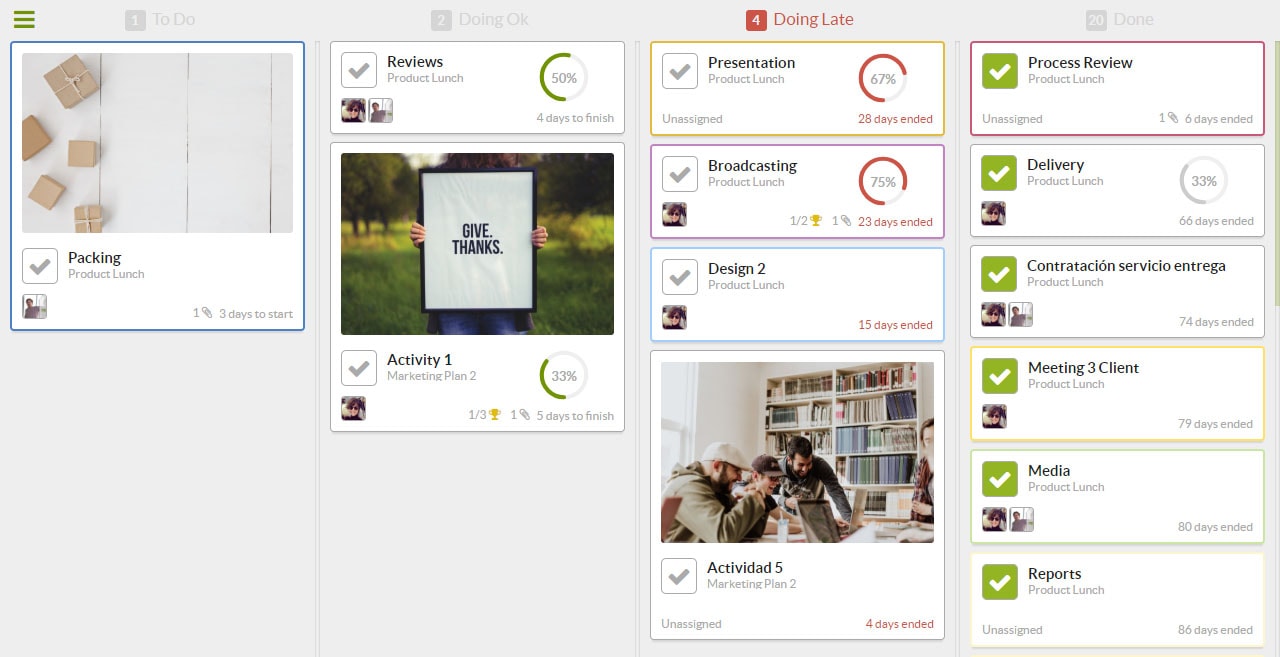 For agile project management, the Kanban dashboard takes visual cues to trigger various actions. Kanban uses the methodology of storing information safely to cloud making sure you have a backup and that information can be accessed from multiple locations with ease.
Best Time management software
Sinnaps, project management software, provides access to the best time management and real-time reporting functions needed for effective project management execution. Time management means having the ability to be flexible and make changes to activities and tasks as they become more or less of a priority throughout individual projects.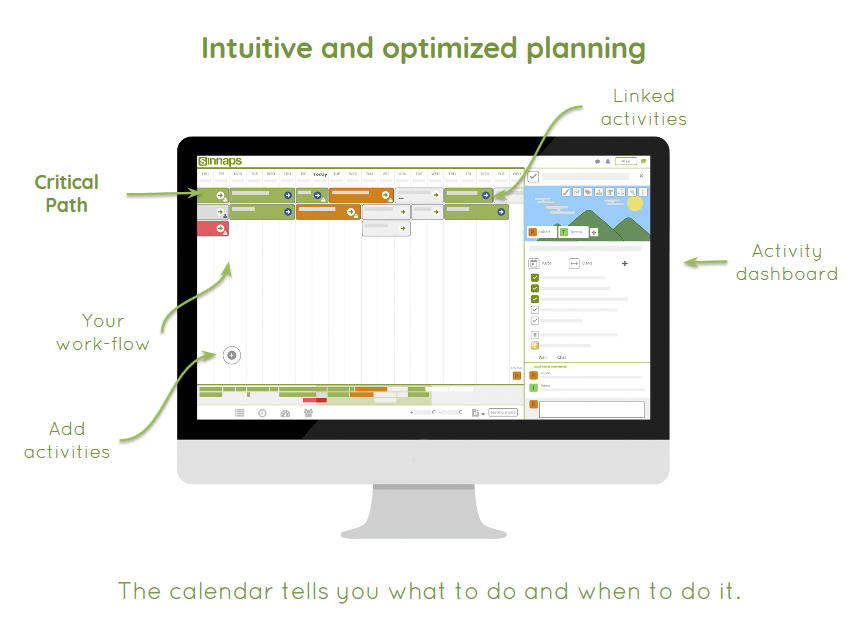 With automated processes in place, you'll save time on manual input leaving you free to focus on other tasks.
Employee time tracking report
Project management involves all aspects of planning, executing, controlling and the completion of work by a team or teams. In today's workplace, very often different team members will be working in different locations. By implementing a dedicated employee time tracking system, you can be secure in the knowledge that tasks are being completed and any additional working hours can be picked up on and discussed.
You can also manage absences and reduce possible payroll queries. It has the ability to set variable rates in order to gain instantly useable metrics. Thus, helping to determine scheduling and task allocation and identify any potential clashes.
Online time reporting
Online time reporting means that employees can record information from any location at any time. If you need to juggle hours from one task to another, the system will allow you to see the most productive and efficient way of making these changes. You will be able to see if employees have hours available in an instant, so you make the most of your workforce.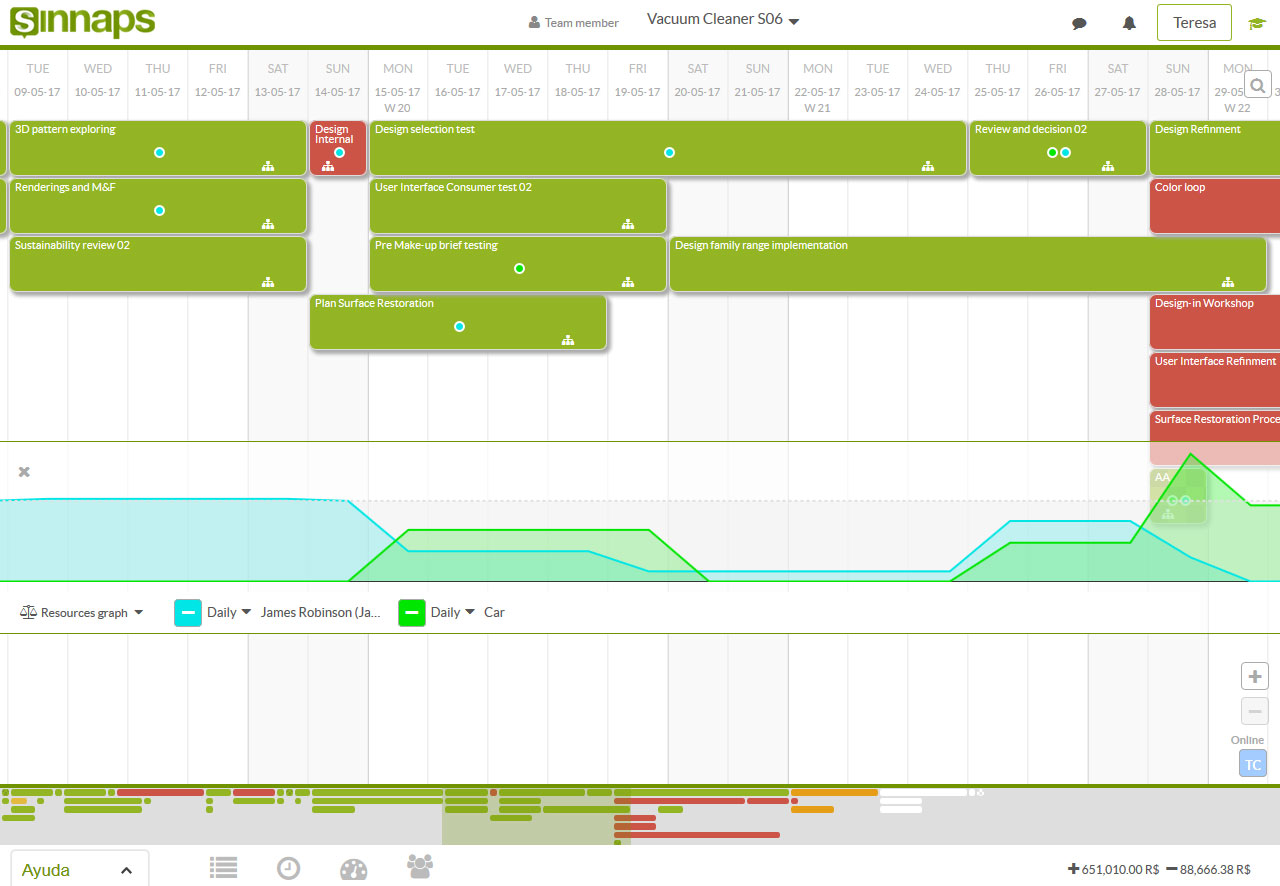 There are no lost time sheets and every hour worked is properly accounted for. You can keep track on both a daily and weekly basis giving you a complete overview. With 5 different types of report available you have access to all the data in the most comprehensive formats to deliver focused reporting.
Reporting time
Reporting time spent on specific actions gives data that can be used for forward planning and budget reporting. Online time reporting means that employees can record information from any location at any time. Staff costs are one of the biggest outlays in project management so keeping tabs on them will allow you to stay on budget.
Working to deadlines and making sure milestones are achieved drives successful projects. Along with the responsibility of delivering results, managing the budget is critical. This is where Sinnaps can help you to achieve the best results possible. Using the chat function makes it simple to communicate with teams working on different sectors of projects that have questions or need more information or instruction.
Sinnaps gives you all the functionality you need from a project management software system to ensure your projects are delivered on time, achieving key performance indicators and shining through on data and staff management. Project management is an art so having the best tools around to ensure success makes perfect sense.
Related links…