Project management is all about managing a project so that it can be successfully completed on time and within budget. One of the most effective ways for managing the project is by using a Gantt chart maker Excel appropriate. Sometimes, projects can be similar, which means that making a Gantt chart from scratch each time can be time-consuming. Having a Gantt chart template can save crucial time. In this article, you will learn about what a Gantt chart is, how it is useful to project management and how to create a Gantt chart templates and export them to Excel with Sinnaps, the project management software.
What is a Gantt Chart?
A Gantt chart is essentially a way in which to portray a project and its management in a timeline format. The activities and tasks are displayed across the timeline and this serves as a visualisation of how the project will be run from its conception stage all the way along the timeline towards its completion.
A Gantt chart allows everybody involved in a specific project to see clearly what activities are involved in the project, when every task begins and ends, the task durations, what activities overlap with others and which are dependent on each other and the whole project timeframe. In a nutshell, a Gantt chart shows you what needs to be done and when so that the project can be successfully completed on time and within budget.
Henry Grant, who was an American engineer and a consultant in project management created the Gantt chart in 1905 and it gained popularity across western countries. Traditionally, the Gantt chart was created by hand using a simple pen and paper. In today's modern and technologically advanced world, project teams are often making a Gantt chart in Excel. Gantt chart software, such as Sinnaps, is another way of greatly optimising project management and provides a Gantt chart Excel template for users.
Gantt chart Excel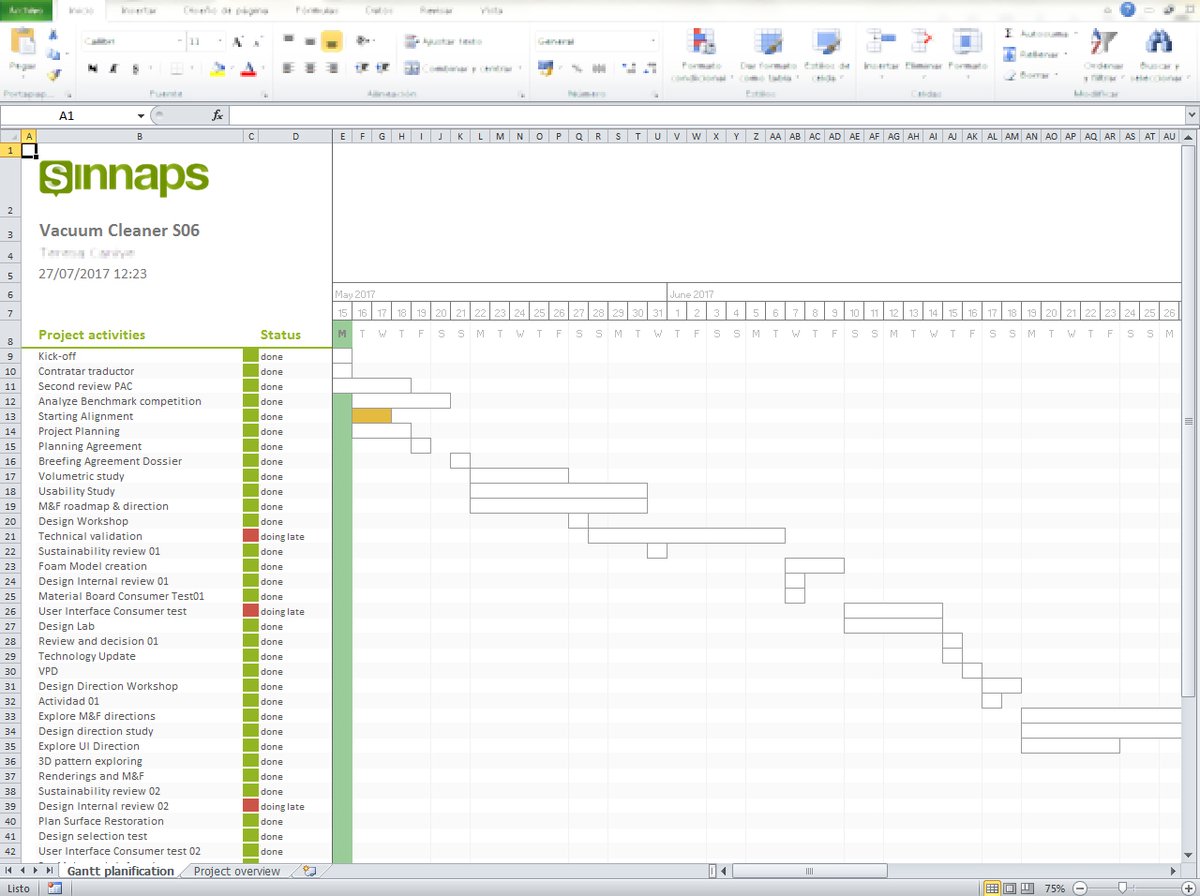 How is a Gantt Chart Useful in Project Management?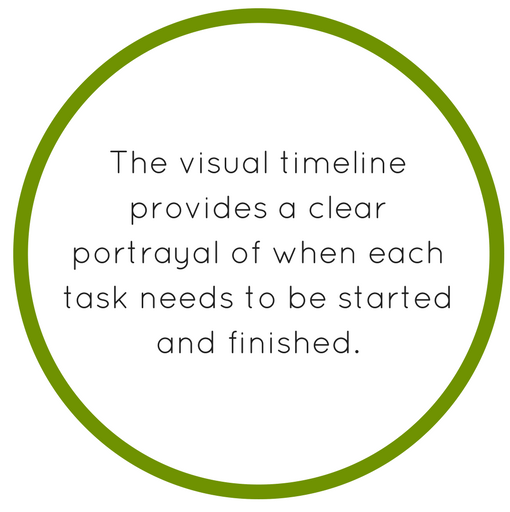 Gantt charts help to keep anyone involved with the project on track. The visual timeline provides a clear portrayal of when each task needs to be started and finished. Key dates are highlighted as well as specific milestones which makes the format more understandable and a memorable.
With a project management calendar, such as Sinnaps, everyone involved with the project has access to the Gantt chart where ever and whenever they may be. This ensures that everyone is on the same page with regards to project progress and with what needs to be done and by whom. It allows for consistent information and mutually agreed upon responsibilities and expectations. This consistency is essential to successfully completing a project.
The clear portrayal of tasks and their relationships allow for the understanding of task interdependencies which can have a strong impact on how project work is carried out. This ensures an optimal workflow and overall maximises productivity.
Project management software allows for resources to be effectively allocated and to also monitored and controlled. By being able to consider the future of project progress it is easier to allocate resources in an efficient manner. They Gantt chart plan allows for project teams to closely follow each task and its resources, heightening the potential for on time completion within budget.
Project management is tightly linked to continuous decision-making. It is important to make effective decisions that are informed. Gantt charts and their visualisation into the future progress of the project inform project managers as to what decisions are appropriate to make.
How to Create Gantt Chart in Excel
Excel is a Microsoft platform commonly used across all organisations in all industries. If you're wondering how to do Gantt chart in Excel, creating a Gantt chart using Excel for Project Management is very accessible. It can be shared with all project team members involved with the project. However, an Excel sheet is harder to keep consistent across everyone involved with the project. It is also harder on the eye in terms of aesthetic properties.
In Excel, a Gantt diagram Excel format can be followed by opening a spreadsheet and putting a timeline across horizontally and activities which follow underneath across the timeline. It is harder to allocate resources and people responsible for each task as well as monitoring and controlling project progress. Using software such as Sinnaps, Gantt chart templates can be used and exported to Excel to modify the template to the specific requirements of the project. This allows for a considerable time saving capabilities while also getting the benefits of project management software.
Timeline Chart in Excel: How to make it?
How to use a Gantt Chart Excel Template
A Gantt project planner Excel-style is one option, using a template exportable to Excel is another. A Gantt chart template is essentially a project management tool that is very useful when planning each phase of your project. A template of a Gantt chart is a formerly created Gantt chart clean of any tasks or activities that is ready for you to fill-in according to your specific project.
Sinnaps is a cloud based project management software that offers templates associated with various aspects of project management such as reports, documents and a project timeline in the form of a Gantt-flow. This is a modernised version of the traditional Gantt chart that helps to optimise the management of projects.
Gantt-flow

These templates can be opened and examined for appropriateness, then they can be exported to Excel and modified to the specific requirements of your project. Using these templates is very useful in terms of time saving capabilities. If you are performing generally similar projects, it is very time-consuming to create a Gantt chart every time.
Link related…
Free Gantt Chart Excel Template
Besides, the integration of WBS Gantt chart into your project will assist in creating a bar chart that tracks tasks across time; it will visually display the start and finish date of each task and the relationship between the tasks of the project thereby ensuring thorough project management.
The Gantt-flow with Sinnaps
Sinnaps is a cloud-based project management software that helps to make project more efficient and effective across all organisations and industries. The benefits include automatic calculation of the critical path, constant updates, time-saving and the fact that it is cloud-based, meaning none of your data will be lost.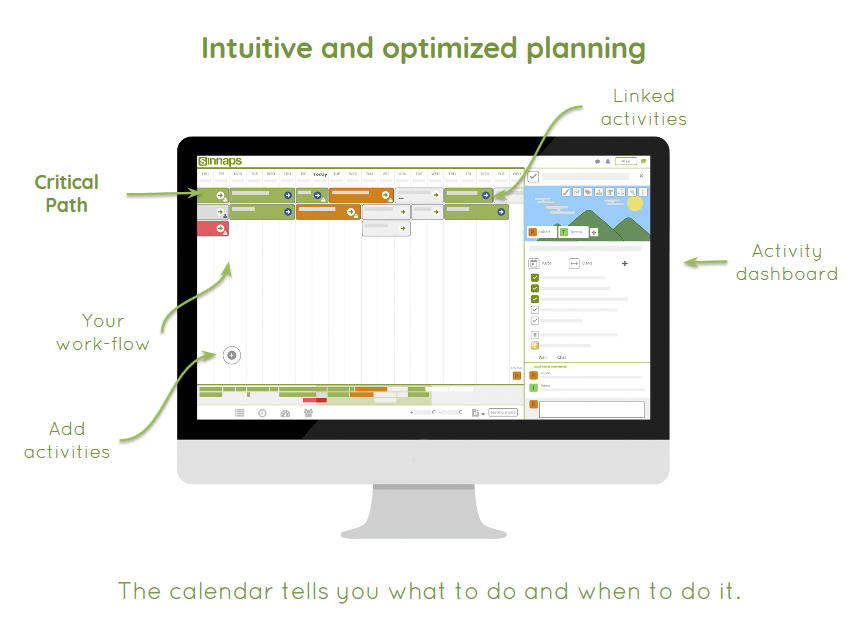 Sinnaps includes an array of useful tools. These tools, mainly the modern and updated version of the traditional Gantt chart, the Gantt-flow, help to optimise project management and make it more accessible. The online app presents an effective and efficient way to plan your projects using tools such as the critical path, sub task management, KPIs and more.
The Gantt-flow is a platform where a project team can input the tasks that form part of the whole project during the planning stage. Task relationships and interdependencies are clearly outlined for all involved to consult. Team members and resources are assigned to each task and bottlenecks are identified. This is mapped out across the timeline of the project and serves as its visualisation- a useful tool for project managers, members and other stakeholders to follow. Project management sample projects are also available through templates from other Sinnaps users.
The critical path of the project which includes the most critical and important tasks to the project's completion are easily traceable across the top of the Gantt-flow. Sinnaps calculates automatically the project's critical path using PERT and CPM technologies and is one of the best project planner Gantt Chart apps to use. The software allows to calculate automatically the critical path, and this is what answers the question- what is project management system work?
Communication that is open and clear is a crucial part of project management throughout and is especially vital during the planning stage of the project. Sinnaps takes this aspect into consideration by the creation of live in-chat features and a project wall where members can consult any changes or addition that have been made to the project plan. Weekly updates on the project's progress are also sent to team individuals through e-mail to make sure they are kept up to date with progress and notified of any changes.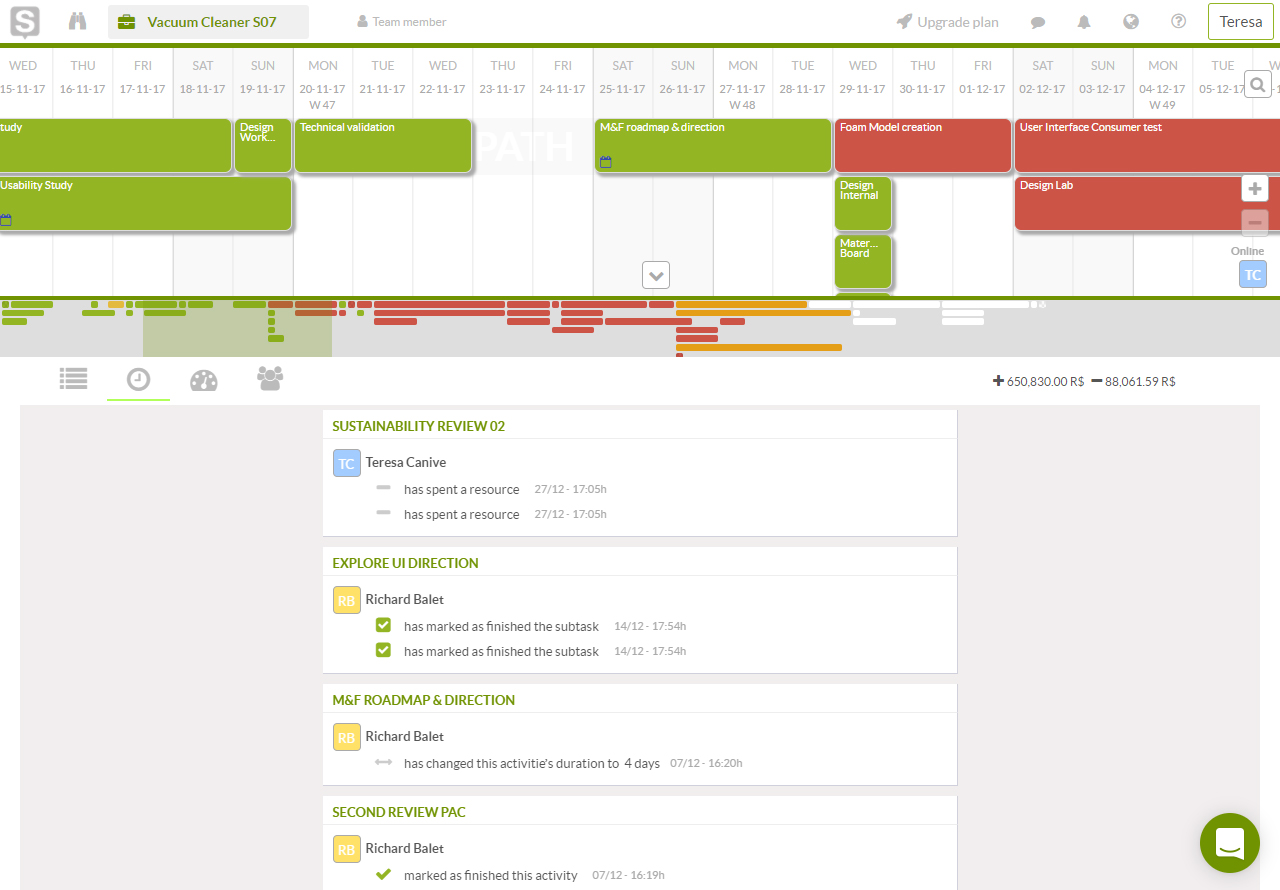 The Sinnaps community presents an option to create and use others' successful project templates. These templates range from project reports to documents and even the Gant-flow timeline itself. If you feel like you don't know where to start in terms of project management or would like to see a complete project management plan/document/progress report example, you can use the templates that the Sinnaps community provides.
These templates provide you with a Gantt chart example Excel appropriate so that you can modify the charts to your individual projects. You can export these templates to Excel and edit them to your project's own specific requirements. In the long-run, a successful project plan template could save you crucial time in the future, especially if your team tend to perform similar projects. Here, you will find a simple project plan template in Excel.
Key Performance indicators are also included on the platform that measure resources, budget and time. This allows for members and the project manager to consult the indicators and judge project progress.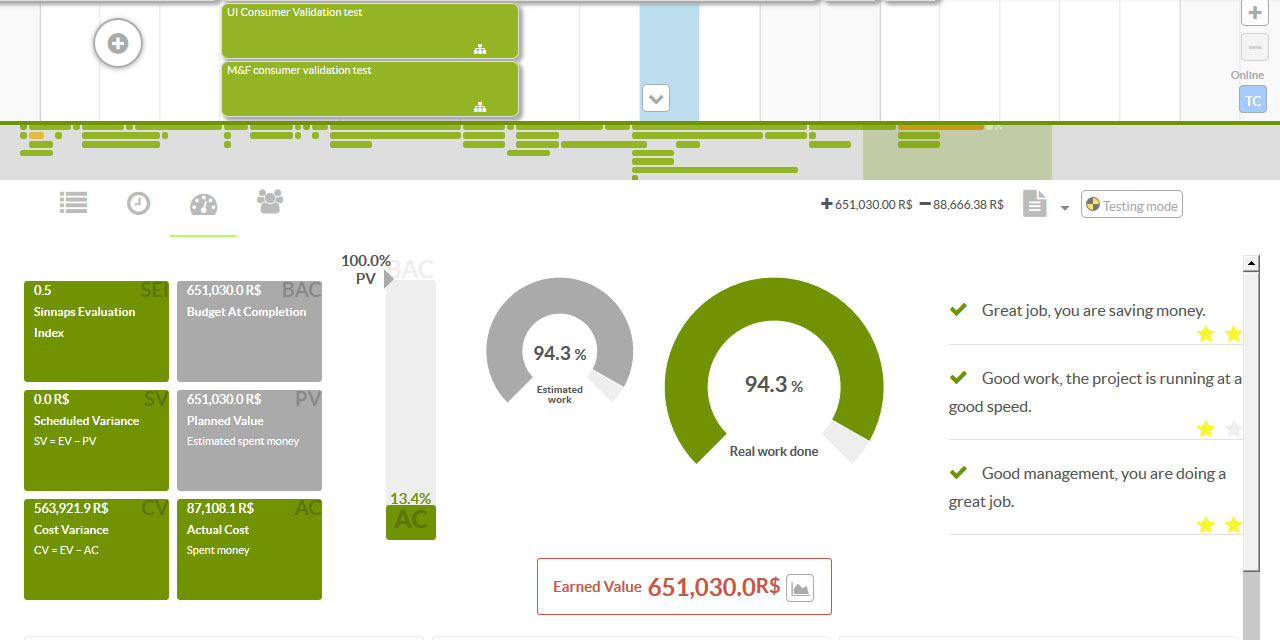 Time is of the essence in project management. The goal of each project is to be completed successfully, within time and on budget. Having a Gantt chart template created by yourself or others that is applicable to your project can save you a considerable amount of this valuable time and truly benefit your project as a whole.
Try Sinnaps' Gantt chart templates today and see for yourself how easy it is to effectively manage your projects!
Here at Sinnaps, we love hearing your opinion and helping you in any way we can. Be sure to give this article a like if you enjoyed it and feel free to leave a comment with any questions or opinions that you have! 😊
Some recommendations…
Te recomendamos estos artículos