Without mincing words, ideas rule the world; an idea is what stands out a business organization from its competitors. It is important for every small business owner to have marketing ideas that will aid the successful running of the activities of a business to ensure that it achieves its goals and objectives.
Having effective marketing ideas in place in an organization will serve as a propellant that boosts the growth of the business thereby making it have a competitive edge in its industry.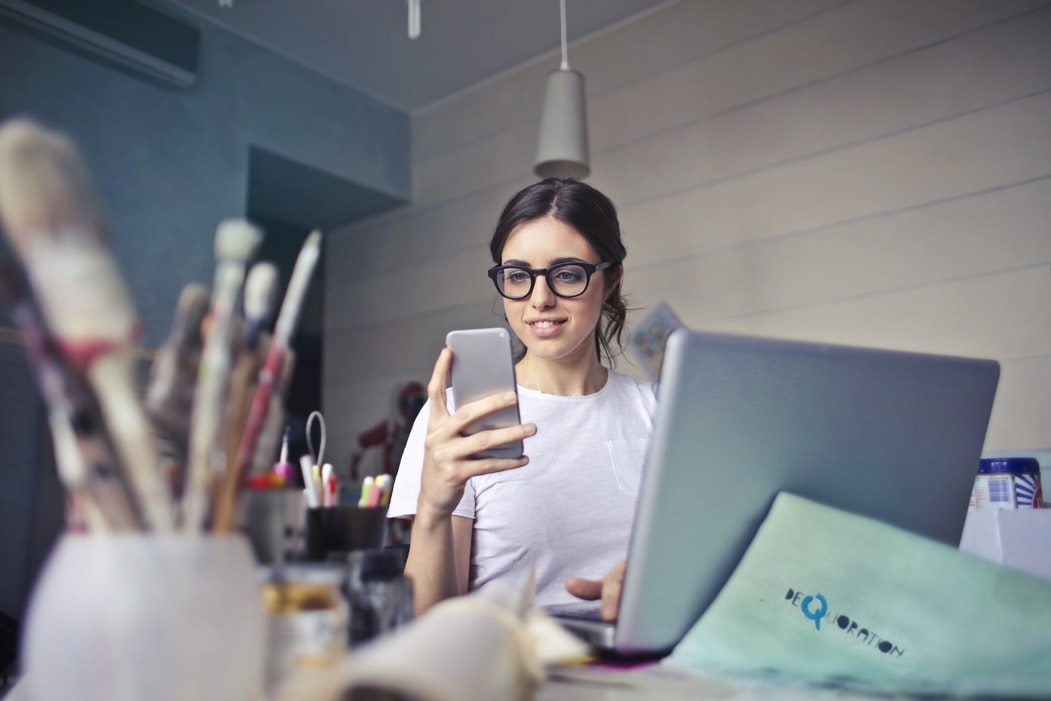 Related link…
Innovation Example in Business
Best Marketing Ideas for Small Business
The world of business is indeed very competitive and a small business requires the best marketing ideas in order to be ahead and be on top of the game in the sector where it operates. They are marketing techniques for a small business which are very helpful in positioning the business in a manner that will make it reach the desired target audience.
The best marketing ideas will serve as the link between the business and the customers because they assist in passing across the vital information that attracts the customers and helping them in making the decision to patronize your goods and services.
The following are the best marketing techniques for small business:
Keep a proper update of the customers' data: with this, you are allowed to have a data-driven decision making in your marketing drive. Accurate data assists business organizations in knowing what to be done, how and when to be done because they have detailed information about their clients.
Have an understanding of your audience: with this, a small business owner will be able to know who the customers of its business are, what they do and how you can help them to do better. It entails having an in-depth knowledge of the demographics and interests of the audience thereby helping them to make better marketing campaigns that will impress them.
Spread relevant content to the target audience: the role that content plays in marketing cannot be over-emphasized, it is the content that will speak to the consciousness of the clients and stimulate them to decide on whether to patronize your goods or services. In essence, it is very important for the small business to use creative words while creating the content for their marketing campaigns.
Optimization of your emails: another best marketing idea that can be used by small business owners is the optimization of business emails. This allows you to use your email marketing to your advantage. Email marketing for small business owners is a vital tool that enables you to improve your engagement with your audience. It is useful for promoting business and growing your income.
It helps in reaching the right audience, it can track metrics over time, it is effective in building consistent and increased awareness about the services offered by business organizations, and it is a cost-effective method of marketing your business organization.
Sinnaps, an online project management tool can be used for creating the marketing ideas of any business organization. It is very easy to use; it also assists you in the determination of the slack of an activity which is the amount of time each activity in an assignment can be delayed without violating the entire assignment duration.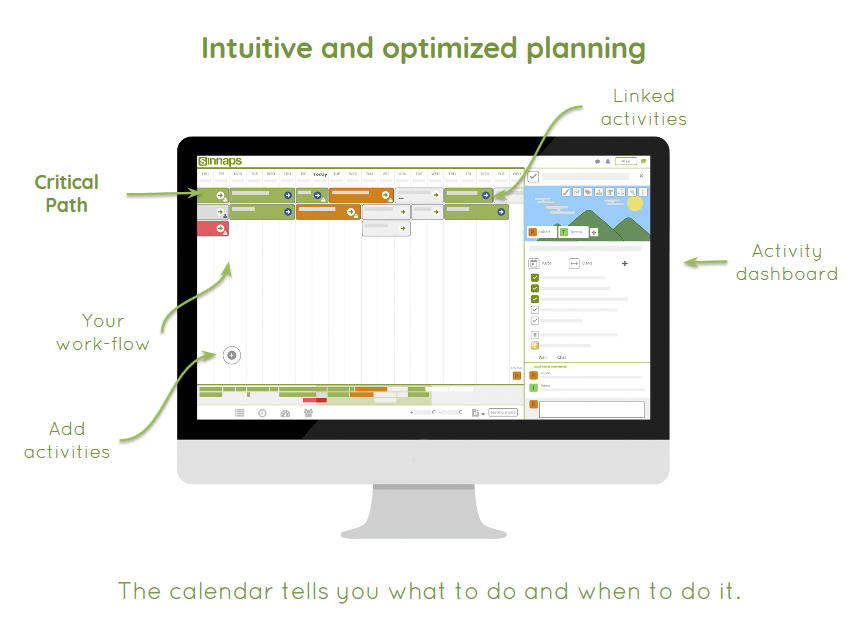 Furthermore, it can estimate the critical path of your activities by laying emphasis on the activities duration, time constraints, and dependencies thereby helping you and teams in meeting your deadlines.
How to market a Small Business
No doubt, the task of marketing a small business can be challenging and difficult for most small business owners. However, marketing is a key metric that determines how successful a business will be in the long-term.
It is essential for small businesses to have a marketing budget for marketing campaigns. In reality, most businesses always plan their marketing activities on a shoe-stringed budget. In essence, small business owners can budget between 7-8% of their business revenue for their marketing assignment.
Again, it is imperative for them to embrace digital media in order to reach a larger audience and it is cost-effective.
Furthermore, the following are helpful in marketing small businesses:
Craft an elevator pitch: you are required to have a compelling elevator pitch that is fascinating to your audience.
Leverage on your community: you can get this done by sponsoring a communal event in your locality and by doing so; you will get to know your customers. This affords you the opportunity of communicating across your message to them.
Collaboration with other businesses that are not competing with you in your sector.
Provision of coupons: this is a great way for the small business to attract new customers because most people will prefer to use a coupon thereby enabling you to enjoy their recurring patronage.
Request for referrals from your customers.
Build relationships with your customers: endeavor to establish strong relationships with your clients. Always keep in touch with them and always respect their opinions
Embrace networking with people.
Marketing Project Management Report
See Sinnaps Project Management study in PDF
Results from the survey conducted with over 500 sector professionals around the world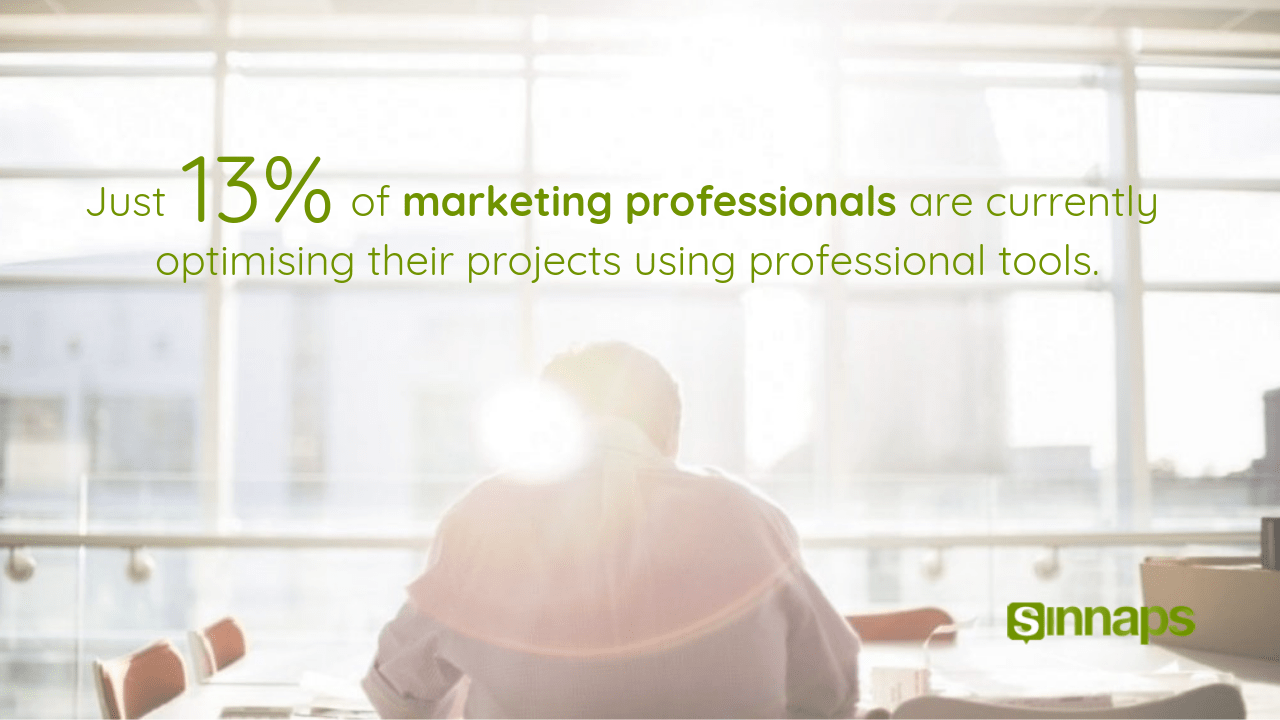 Creative Marketing Ideas for Small Business
A business organization that hopes to achieve its goals and objectives must have creative marketing ideas in place. These are innovative marketing techniques for small business that will make an organization stand out among its rivals. Creative marketing ideas will enable the business owners to think outside of the box in their marketing campaigns.
One of the creative marketing ideas for small business is the use of internet strategies to nurture and grow your business. Internet marketing strategies for the small business permit you to use the continuous growth of the internet to your advantage.
As at today, about 3.2 billion people globally use the internet and internet marketing strategies include content marketing plan and website optimization for search engine results. Online advertising is an online marketing strategy that makes use of the internet to deliver promotional marketing information to consumers.  
The process of getting more out of online advertising by small business requires having a solid brand identity. Small business branding is the process of creating a clear identity that will properly communicate the values of a business organization to its customers.
Also, social media marketing for small business is another marketing technique for small business. Most internet users are social media users such as Facebook, LinkedIn, Twitter, Snapchat, and Wechat. As a small business owner, you can leverage your presence on various social media for your marketing campaigns.
You are only required to create catchy and enticing content through posts, live story, and webinar hosting features to disseminate vital information about your business to your social media followers. Another advantage of social media marketing for small business is that you will be able to save a lot of costs.
As a tool, Sinnaps can be used in designing creative marketing ideas for small business. Also, it supports effective communication of the creative marketing ideas among the workers.
Small business promotion ideas
Every small business owner aims to grow his or her business into a world-class business organization but no business can thrive without effective promotion. The promotion ideas are marketing ideas that will convey the ideal information about the goods and services offered by a business organization to the customers. The following are the marketing tips for small business:
Video marketing
Content marketing
Cross promotion on social media and social media engagement
Running of a business blog
Hosting of events
Furthermore, it is essential for small business owners to create the best ways to promote their businesses and these include the use of marketing material ideas such as sales letters, newsletters, developing a customer referral program, and organization of online contest for your customers.
When you embrace small business marketing solutions such as email marketing, content marketing, and social media marketing, then your marketing campaigns become very easy and you will be able to attain the desired goals for your business and generate the mind-blowing income.
Again, the use of tools such as Sinnaps will further simplify the process of creating and implementing the marketing ideas of every business organization because of its ease of use feature.
Related links…
Marketing Plan Template for Free